Microsoft plugs Xbox One consoles into its cloud - what could go wrong?
No one wants a Blue Sky of Death ruining their post-work shoot'em'up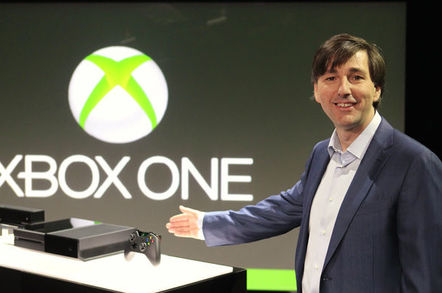 Microsoft is wiring Windows Azure directly into its forthcoming Xbox One games console – giving game developers server-side processing and gamers the chance of cloud brownouts ruining their playtime.
Microsoft has said from the start that Xbox will be tied into Azure, but on Tuesday John Bruno, a program manager for Xbox Live, posted a blog explaining how these features will work.
Game programmers will get free servers from Azure so they can add server-side processing into their games for performing tasks that aren't latency sensitive, he said.
Along with this, dedicated servers will be made available letting online games host "hundreds" of players compared with the 16, 32, or 64-player shenanigans made possible by current consoles.
And games companies can use the telemetry fed to them from the consoles to develop additional features in response to what players do, he said.
"Additionally, Xbox Live Compute can be utilized to persist game state so that your squad can live to fight another day without losing any progress," he noted.
What set our alarm bells a'clanging was this statement: "We expect that this platform will help our development community build more of their games as services – games that are intelligent, immersive and continuously evolving experiences for the players – powered by Microsoft's ever-expanding cloud infrastructure."
Bearing in mind the cockups that have and do happen with software-as-a-service and infrastructure-as-a-service products, games-as-a-service makes us shiver. In the past, Azure outages – Blue Skies of Death – have killed online play and made save games unavailable for a variety of Microsoft products.
With the new Xbox One, Microsoft appears to be going further by encouraging developers to offload whole chunks of game logic into servers operated by Redmond.
Though this may allow for additional features, it smacks of a stealthy anti-piracy (Digital Rights Managemennt) feature that could blow up in Microsoft's face. Just remember what happened when SimCity launched on the PC and crashed as EA's servers failed to keep up with the load.
Console rival Sony has also promised cloud features for its console as well, though these are less ambitious than Microsoft's and therefore should have less of an impact if [when? – ed] Sony's servers croak. ®