Twitter sets up BEELLION-DOLLAR credit line ahead of IPO
Microblogging site gets a cash-filled revolver - just in case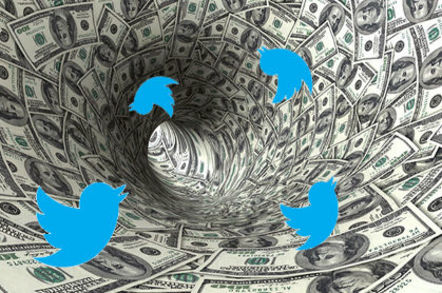 Twitter has set up a billion-dollar loan ahead of its initial public offering from a group of big banks.
The microblogging site has set up a revolving credit facility from Goldman Sachs, Morgan Stanley, JP Morgan, Bank of America Merrill Lynch and Deutsche Bank, as well as others, sources whispered to Reuters. All five banks are also underwriters of the firm's market début.
This type of loan is used to guarantee access to funds for companies, which they can use for general business purposes and capital expenditures. Twitter doesn't have to draw on the money if it doesn't need it, but it still needs to pay a fee for the availability of the cash even if it doesn't spend it.
Twitter is expected to go public sometime in the next couple of months and analysts are anticipating that the firm will look for a valuation of at least $10bn. ®
Sponsored: Beyond the Data Frontier