Apple's Steve Jobs was a SEX-crazed World War II fighter pilot, says ex
Former Jobsian squeeze dishes the dirt on iPod godhead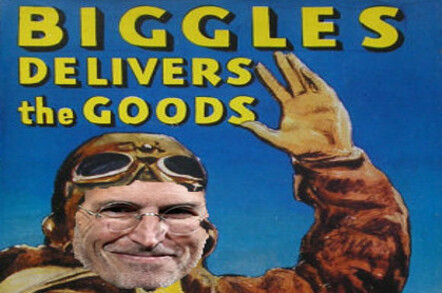 Steve Jobs was a sex-mad bully who believed he was a World War II fighter pilot in a previous life, an ex-girlfriend has claimed.
Chrisann Brennan met the soon-to-be Apple co-founder in 1972 and went out with him for five years. She had a ringside seat at the very beginning of Apple's ascent to global domination – and a bedside place alongside its creator.
In a new book, The Bite in the Apple: A Memoir of My Life With Steve Jobs, Brennan gives frank details of Jobs' titanic sexual appetite as well as his bizarre belief in a former life.
"Steve often said that he had a strong sense of having had a past life as a World War II pilot," Brennan wrote.
"He'd tell me how, when driving, he felt a strong impulse to pull the steering wheel back as if for takeoff."
To put it bluntly, Jobs was a bit of a shit in matters of the heart. He ditched Brennan when she fell pregnant in 1977, and denied the baby was even his. In 1983, despite taking a paternity test, he claimed "28 per cent of the male population in the United States could be the father", according to the New York Post. Jobs later relented and paid for his daughter Lisa to attend Harvard University.
Despite this nastiness, Jobs spent the rest of his days dreaming of the tempestuous nights of rumpy-pumpy he enjoyed with his teenage sweetheart.
"Steve and I shared nights of lovemaking so profound that, astonishingly, some fifteen years later, he called me out of the blue to thank me for them," his former lover added. "He was married at the time of his call and all I could think of was, Whoa ... men ... are ... really ... different. Imagine if I had called him to say such a thing.
"We remembered different things. Mainly I recalled how awful he was becoming and how I was starting to flounder. But he was right: our lovemaking had been sublime. At the time of Steve's phone call, I found that as I listened I was as awed by the memory as by his strange need to risk an expression of such intimacy. After I hung up I stood still and thought, maybe Steve thinks that love has its own laws and imperative. But why call now?"
As the relationship between Jobs and the mother of his first child wore on, he became increasingly critical, pointing out the young woman's wrinkles disapprovingly and inventing a "whole new category of unkindness".
Brennan continued: "Steve had always been a brilliant misfit, but at this time — to be generous — he wasn't managing his growing power very well. In fact, he was positively despotic. Excellence had always been a gorgeous thing in Steve, but now he was using it like a weapon. He'd look for excellence and when he didn't find it, he'd behave badly and take it out on people.
"As Steve's first girlfriend I increasingly experienced what it felt like to have him turn against me. And so it was at this time that I began to perceive that awesome and awful could be but a hair's breadth apart."
Of course, Jobs seemed to get along just fine with his second wife, Laurene Powell, whom he married in 1991. The pair had three children and stayed together until his premature death in 2011.
To read more about Steve's sweaty sex life, you can buy Brennan's book, The Bite in the Apple: A Memoir of My Life With Steve Jobs, from October 29. ®
Sponsored: Webcast: Build the next generation of your business in the public cloud