Fusion-io flogs mutant array, souped-up software to small biz
Slaps down hybrid upstarts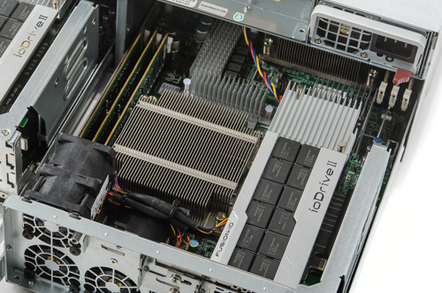 Fusion-io has built a hybrid flash and disk drive array, targeted at SMEs, with souped-up software for putting hot data in flash.
There's a server flash caching extension to this to bump up performance over the hybrid array competition.
The ioControl 3.0 hybrid array uses acquired NexGen Storage tech – $119m in April – with updated software to bung the hot data in PCIe ioDrive flash cards using app-aware controls. Redundant data copies (snapshots, replicas and clones etc) are sent to disk.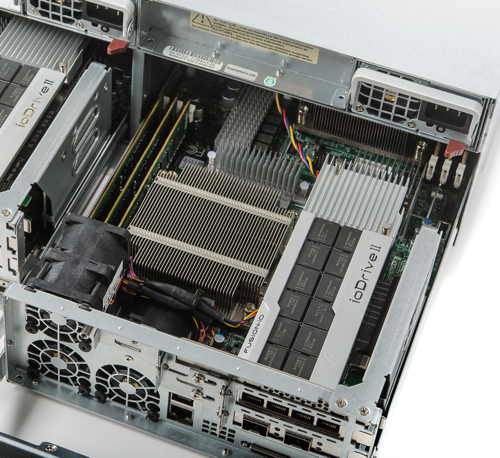 Fusion-io ioControl v3 hardware showing one of an active:active controller pair.
The technology is called Dynamic Data Placement and it adjusts how quickly app data moves from flash to disk according to settable priorities. Fusion-io claims this "priority-driven caching enables 3x more workloads to be consolidated," and has a Tolly Group comparison (registration needed) to justify it, comparing an un-named hybrid array product against the ioControl one.
The product has a pair of active:active controllers, as the schematic diagram illustrates: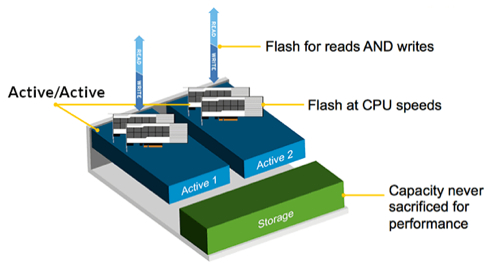 ioControl schematic diagram
There is no deduplication but Fusion says the product reduces the data written by pattern matching, thin provisioning and volume clones. Data protection is by thin snapshots and reservation-less snapshots.
There are five products:
n5-50 with up to 1.46TB of flash and 160TB of disk
n5-100 with up to 3.14TB of flash and 176TB of disk
n5-150 with up to 4.8TB of flash and 192TB of disk
n5-SPX 2-Server Application Cluster
n5-SPX- 3-Host VMware Cluster
SPX is described below.
Fusion-io says ioControl has a policy-based user interface that lets admin staff manage the system "by business policies rather than legacy paradigms, such as tree view."
It has a search engine feature to help admins to find and update settings and priorities; Fusion-io says you need less time for admin.
After channel conflict and confusion problems earlier this year, Fusion-io has decided that ioControl is a small and medium business product and the SMB market is one for its resellers.
The product, as a hybrid array, will clearly compete with those from three startups: Nimble Storage, Tegile and Tintri. These have been shipping kit for over a year and both Tintri and Tegile have virtual server-based offerings. Fusion-io is claiming better performance than one existing unnamed hybrid array-maker, so it looks like you'll need to run your own pilot exercise if you want specific comparative performance details.
However, Fusion may have an edge.
SPX
Fusion-io has also announced ioControl Server Performance Extension (SPX) providing server caching using ioMemory server flash. It says ioControl 3.0 boosts performance by up to three times over existing hybrid arrays. Adding ioMemory flash in the server and Fusion's ioTurbine caching software "accelerates performance by an additional four times," according to the firm.
Fusion's canned statement says: "ioControl SPX performs writes on shared Fusion ioMemory flash in ioControl. Read workloads are moved from ioControl to ioMemory flash in the server to complete application requests as rapidly as possible."
Virtual machine density with VMware can be boosted; Fusion suggests it can be doubled. The SPX product delivers memory-attached high availability (HA), using an active:active architecture, and is compatible with vMotion. It can simplify high-availability for SQL server clusters too.
And Fusion stresses you don't need third-party high-availability products in these cases. There are 2-node (2-Server Application Cluster) and 3-node (3-Host VMware Cluster) configs with 1.65TB of ioMemory for two servers and 2.48TB for three servers.
So the message is, if you want up to seven times more performance than a Nimble, Tegile or Tintri array – or any other hybrid array, come to that – choose Fusion's ioControl with SPX server caching.
Get the ioControl SPX datasheet here. The products are being showcased at the UK's IP EXPO, Oct 16-17. They're available now from Fusion-io resellers in Europe - UK and the Netherlands - and North America. ®
Sponsored: Beyond the Data Frontier