Smile for the cops! Sexy Snapchat selfies' self-destruct scrubbed by search warrants
Dozens of orders slapped on pic-swap biz since May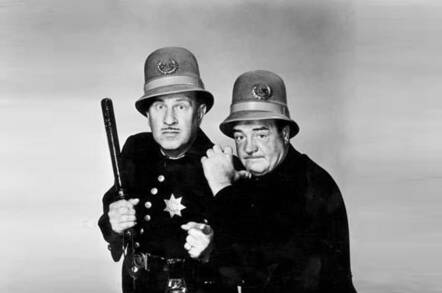 Privacy experts have been warning for some time that images shared using self-destructing-photo service Snapchat may not be as stalker-proof as expected. Now the company has revealed that users shouldn't assume their snaps are off-limits to the police, either.
The basic idea of Snapchat is that recipients of images can only view them for up to 10 seconds, after which they're deleted from the receiving device.
That would appear to leave a very limited window for images to be intercepted by unwanted viewers, including law enforcement. But according to a Monday blog post by Snapchat trust and safety head Micah Schaffer, confiscating a Snapchat user's handset isn't the only way for investigators to retrieve photos they have received.
Photos are automatically deleted from Snapchat's servers once they've been opened by their recipients, but Schaffer says it is possible to grab the images from the servers before they've been viewed in some cases – such as when the law comes a-knockin'.
"For example, if we receive a search warrant from law enforcement for the contents of Snaps and those Snaps are still on our servers, a federal law called the Electronic Communications Privacy Act (ECPA) obliges us to produce the Snaps to the requesting law enforcement agency," Schaffer wrote.
Snapchat might also be compelled to hang onto photos for longer than it normally would, he said, such as when the police are still waiting for a judge to issue a search warrant. In such cases, snaps that the user thought had been deleted may still become evidence.
What's more, incriminating selfies that have been added to Snapchat Stories are even more likely to end up in the hands of police, because those images are retained on the company's servers for a full 24 hours.
So how worried should criminally minded Snapchatters be? According to Schaffer, not very. For one thing, he says, only he and Snapchat CTO Bobby Murphy have access to the tools used for extracting unopened selfies from the company's servers. For another, requests from law enforcement just haven't been much of an issue for Snapchat – not so far, at any rate.
"Since May 2013, about a dozen of the search warrants we've received have resulted in us producing unopened Snaps to law enforcement," he wrote. "That's out of 350 million Snaps sent every day."
Admittedly, that is a far cry from the amount of scrutiny received by a company like Google, which fields tens of thousands of user data requests each year from US law enforcement agencies alone. But if Google's experience is any indication, the number of requests Snapchat receives will only grow over time.
Moreover, let's not forget that Snapchat's "10 second deletion" rule isn't a hard and fast one. If recipients have saved your racy selfies to their devices using one of several apps that claim to be able to do it, law enforcement likely won't need to subpoena Snapchat itself to get hold of them.
So consider your Reg hack's humble advice, dear reader: if trading snaps of your naughty bits over Snapchat with other consenting adults is your definition of a good time, by all means do so. When it comes to images of questionable legality, on the other hand, think very carefully before you press Send. ®
Sponsored: What next after Netezza?