Google peered through Glass during solar race
Talent-spotting or augmenting race reality?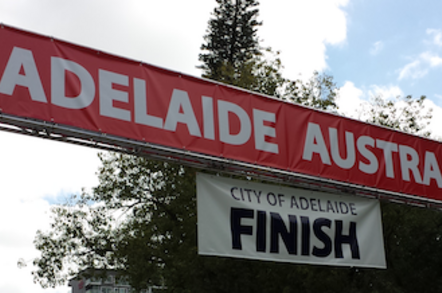 World Solar Challenge Vulture South is preparing a round-up of the 2013 World Solar Challenge and in the process something interesting has come up: Google.
During the race, Solar Challenge officials whispered to Vulture South that they had an inkling Google observers were discretely talent-spotting as the caravan rolled on.
At the Adelaide finish line, The Reg spotted a chap wearing Google Glass, the Chocolate Factory's tech specs. The chap identified himself as a Google employee, said he had assisted the fourth-placed Stanford Solar Car Project, confirmed his eye wear was indeed Google Glass and said it had been of limited use in the bandwidth-deprived dead heart of Australia.
He declined our offer to name himself, be photographed or say anything else, citing the need for signoff from Google's PR types.
Google's interest in self-driving cars and alternative energy are well known, making the World Solar Challenge an obvious breeding ground for the kind of technologies that interest The Chocolate Factory.
Whatever Google was up to, officials have announced the official race results.
Dutch readers can feel proud today, as teams from The Netherlands took top spot in the premium Challenger class and the Cruiser class.
Team Nuon took the former class by crossing the finish line first on Thursday. Team Eindhoven was not the first Cruiser across the line, but as the class was judged on a combination of "solar kilometres travelled; passenger kilometres; speed; energy efficiency; and a subjective element of design and practicality" it managed to overhaul on-road winner SUNSWIFT from the University of New South Wales.
Another Australian entry, Team Aurora, took out the Adventure class and would have placed highly overall had the rules in its class not enforced a break in Alice Springs. ®