Streaming TV Aereo's enemies lob sueball into Supreme Court
'No more shilly-shallying, dilly-dallying – we're going straight to the top'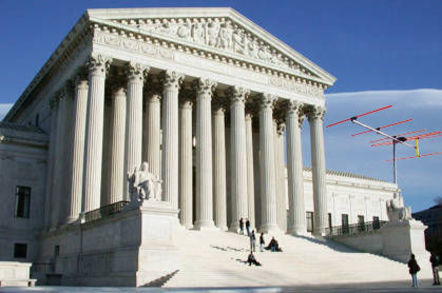 The four top US television-broadcast corporations – ABC, CBS, NBC, and Fox – have taken their battle against fiesty one-antenna-per-customer cloudy DVR and streaming service Aereo to the US Supreme Court.
The four, Reuters reports, argue that allowing Aereo to continue snatching broadcast TV out of the air, storing it in a customer's individual DVR, then allowing them to watch it at their leisure is "already transforming the industry and threatening the very fundamentals of broadcast television."
Just to be clear, from their point of view that's a bad thing. Your opinion may differ.
The crux of the argument is that the broadcasters charge that Aereo is stealing their copyrighted content, and Aereo counters that their service is doing only what a Regular Joe TV owner would do: use an individual antenna to capture over-the-air broadcast transmissions.
This Thursday, The Reg recounted much of the history of the ongoing dispute, and noted that Aereo had just won another legal victory in the US District Court in Massachusetts, which turned down Hearst Stations' request for a preliminary injunction against Aereo's Boston service while its case is being litigated.
As we wrapped up that article, we noted that "this being the litigious US, don't expect broadcasters and TV stations to roll over and simply accept this new form of competition. More legal wrangling is inevitable."
And now the broadcasters have proven us correct, and have escalated their fight to the highest court in the land. There is, of course, no way to know whether the Supremes will take the case – you ask them to consider something, you don't order them to – but if it does, this squabble will drag on for at least a year or three.
While it does, Aereo will continue to transform the industry and threaten the very fundamentals of broadcast television ®
Sponsored: What next after Netezza?