That 'DIAMOND SUPER EARTH' may actually be WORTHLESS ball of gas
Priceless planet could be filled with hot air - literally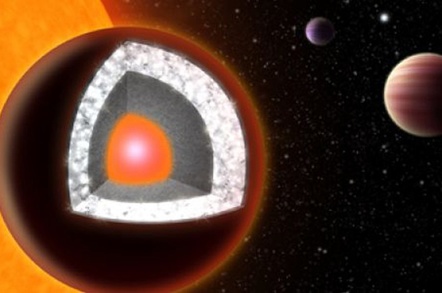 A "diamond super Earth" discovered a year ago may not be anywhere near as valuable as previously suggested.
A graduate student at the University of Arizona has examined data that appeared to point to the existence of a diamond-stuffed world circling 55 Cancri, a star which is 40 light-years away from Earth.
Scientists at Yale had earlier suggested that the precious planet 55 Cancri e was a rocky globe with a shell of graphite surrounding a thick layer of diamond, but this has now been thrown into doubt.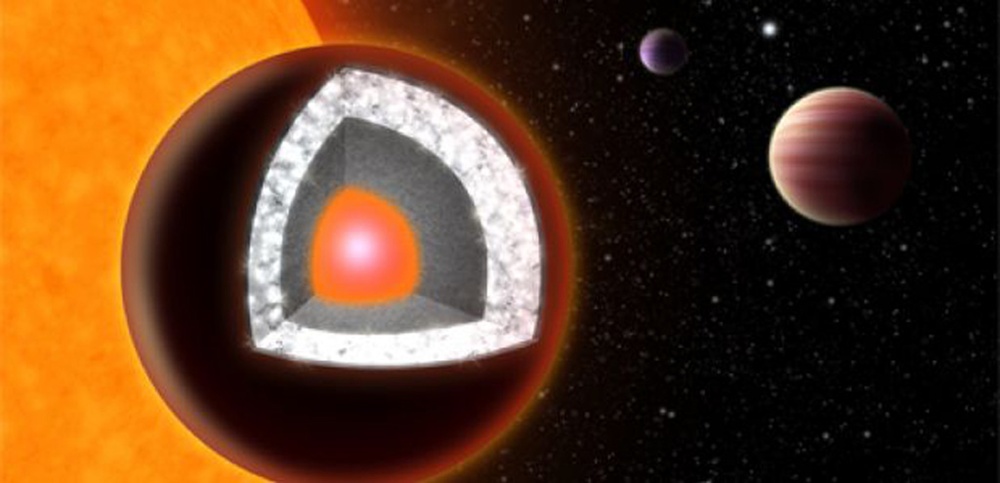 Shine on, you crazy diamond ... 55 Cancri e as imagined by Haven Giguere/Yale University
Johanna Teske, an astronomy PhD student, and her team looked at data relating to the chemical makeup of 55 Cancri as that information can indicate the composition of the planets built by the star. She found the burning orb contained much less carbon than originally indicated, and even more oxygen.
She therefore reckons the diamond world has a similar constitution to its star, meaning it is likely to be made of less carbon - and therefore diamond - than once hoped.
"In theory, 55 Cancri e could still have a high carbon to oxygen ratio and be a diamond planet, but the host star does not have such a high ratio," Teske said.
"So in terms of the two building blocks of information used for the initial 'diamond-planet' proposal – the measurements of the exoplanet and the measurements of the star – the measurements of the star no longer verify that."
The so-called super Earth is the smallest of five planets orbiting 55 Cancri. It orbits the star at such speed that a year lasts just 18 hours and its surface temperature soars to more than 3,000 degrees Fahrenheit - almost enough to melt platinum.
"This planet is probably rocky or has a large rocky component," Teske continued. "We don't really know if it has an atmosphere."
She added: "Depending on where 55 Cancri e formed in the protoplanetary disk [around its sun], its carbon-to-oxygen ratio could differ from that of the host star. It could be higher or lower. But based on what we know at this point, 55 Cancri e is more of a 'diamond in the rough'."
The work of Teske and her team [PDF] is due to be published in the Astrophysical Journal. ®
Sponsored: Detecting cyber attacks as a small to medium business