Amazon lures in Kindle Fire devs: Promises fame across devices
Bezos to dole out 'enhanced merchandising' in Xmas runup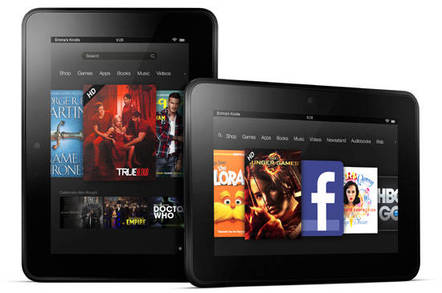 Amazon is promising to promote developers' apps written especially for its Kindle and Fire OS.
The Jeff Bezos-run tech monster has vowed to cough up a range of marketing and "economic benefits" to independent software vendors under the Appstore Developer Select programme, unveiled on Tuesday.
The programme targets existing Amazon Appstore developers, including those using HTML5.
Amazon's veep of AppStore, Games and CloudDrive, Mike George, said the program would help satisfy developers' concerns about having apps that they uploaded to its store discovered on different devices.
"We are addressing these discoverability concerns by providing developers with enhanced merchandising opportunities," George said.
The programme has been launched ahead of Christmas to prepare for an expected boom in sales of Amazon devices and downloads from the company's app store.
Qualifying apps will get premium placement on the Amazon Appstore, a promised 500,000 impressions on the Amazon Mobile Ad Network and be automatically included in the Amazon Appstore Coins Reward category.
There's also a kickback on the developer side, with app authors getting credits equivalent to 25 per cent off their annual Amazon Web Services spend.
To qualify, apps must include relevant Amazon APIs - like In App Purchasing and mobile ads - and render natively in high definition using the entire screen without distortion. ®
Sponsored: How to get more from MicroStrategy by optimising your data stack