NASA Juno probe HOWLS past Earth - and goes into HIBERNATION
Unexpectedly dozing like a 140,000kph baby towards Jupiter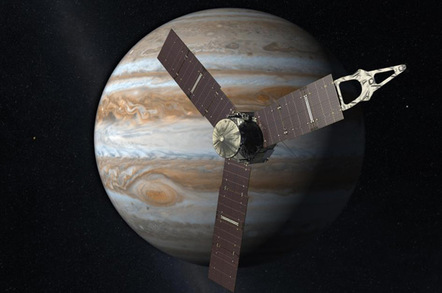 Updated NASA's Jupiter-bound Juno spacecraft waved goodbye to Earth as it shot past at 140,000kph - and mysteriously switched into "safe mode", the space agency confirmed to The Register.
The $1.1bn probe buzzed our planet to gain a speed boost for its five-year journey to the gas giant. A spokesman for the space agency's Jet Propulsion Lab told us solar-powered Juno "is in safe mode at present" and "responding in safe mode as expected".
"It was in safe mode as it came out of the Earth flyby," he said. "Two-way communications have been established. The spacecraft is in a safe stable state receiving power from the solar arrays as expected."
The switch to safe mode, caused by an as-yet unknown fault or glitch, has not affected the craft's trajectory, we're told.
Earlier, radio hams were invited to test of one of its experiments by getting together to say "hi" to the probe.
Juno, launched in August 2011, passed by 560km above Earth's surface at 3.21pm Eastern Daylight Time in America on October 9 (7.21 pm GMT, and 4.51 am on Australia's east coast on October 10).
The flyby was a high-value manoeuvre in mission terms, since according to Lockheed Martin, it saved around 50 percent of the fuel that would have been needed without the gravity slingshot the craft will get.
Along the way, mission controllers will be watching Juno's path carefully (since it will pass within the orbit of geostationary satellites), and will conduct instrument tests.
Hence the "say hi" activity. To take place between 18:00 and 20:40 UTC, ham operators were told to send a simple Morse code message – HI – at 1/25th of a word per minute – in a coordinated cycle. Details of the timing and message are at JPL, here.
Hams were asked to spread their messages across the frequency band 28 MHz to 28.45 MHz to help test Juno's Waves instrument, a radio and plasma detecting instrument. Once Juno is in place in its polar orbit around Jupiter, Waves will be used to detect auroral currents on the gas giant.
Juno wasn't visible to the naked eye, except that occasional flares of sunlight reflected from its solar arrays may have been visible as flares.
Spaceweather had a map showing the ground track of the probe during the flyby. ®
Updated at 0045GMT to add extra information about the probe's safe-mode condition. Additional reporting by Chris Williams.