'Computer GEEKS' snatch NOBEL Prize for chemistry - without using chemicals
Balls and sticks? Bubbling beakers? Old hat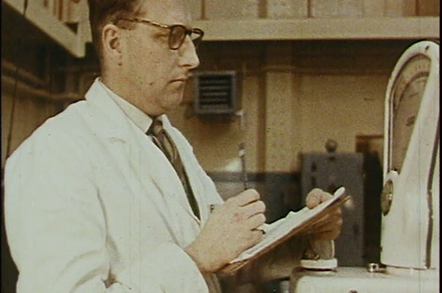 Three chemists have been awarded the Nobel Prize in their field, not for arcane experiments with bubbling beakers but for writing software to make computers do all the hard work.
"In the 1970s, Martin Karplus, Michael Levitt and Arieh Warshel laid the foundation for the powerful programs that are used to understand and predict chemical processes," said the Swedish Royal Academy of Sciences in a statement announcing the award.
"Computer models mirroring real life have become crucial for most advances made in chemistry today."
What particularly impressed the Nobel committee was that the trio managed to simulate not only classic physical chemistry reactions but also quantum fluctuations in molecules inspired by chemical processes. This means chemists can try out their experiments on the computer before administering the end result to humans or animals for testing.
Warshel said that the idea of computer modeling of reactions came to him in 1975 but was hampered by the low power of computers at the time and resistance from the chemistry community. He told Reuters that his papers were frequently rejected by chemistry journals but that the trio persevered in developing and refining the software.
"I am a computer geek," said his colleague Michael Levitt. "That's not to say that I became a computational chemist in order to play with computers, but a large part of any creative activity is to feel that you're playing. All science is driven by passion; you have to feel that you just have to do it. You have to care about things other people don't care about."
In 1976 Warshel and Levitt showed that you could model both classical and quantum reactions on a computer but technical hurdles had to be overcome before the technique could be used properly. Now computer modeling is standard procedure and is used in everything from laboratory experiments to MRI scanners.
"It has revolutionized chemistry," Kersti Hermansson, professor in organic chemistry at Uppsala University, said of the computer modeling. "When you solve equations on the computer, you obtain information that is at such detail it is almost impossible to get it from any other method."
"You can really follow like a movie, in time and in space. This is fantastic detail ... You can solve problems, determine why things happen - energy problems, corrosion, chemical reactions, materials, why the properties are how they are and how you could improve them to design better materials." ®