Judge smites IBM's anti-Amazon cloud campaign
Big Blue's bid to freeze Bezos & Co out of contract struck down in court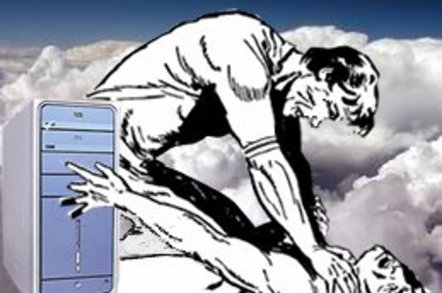 Updated Amazon's attempt to muscle in on IBM's territory and grab a slice of oh-so-lucrative government cloud workloads took a step forward on Monday after a Federal Judge ruled in favor of Bezos & Co.
The ruling by Judge Thomas Wheeler was published on Pacer on Monday, and could torpedo IBM's attempt to knock the Amazon Web Services technology out of consideration for a $600m contract to build a spy cloud for the CIA.
Wheeler's ruling is the culmination of a dispute that has been going on since February, this year, and has big implications for Amazon, and poses a major cause for concern to the folks that run IBM's cloud business.
Amazon was awarded the strategically important contract to build a private cloud for the CIA in February, but IBM disputed the win, claiming the evaluation hadn't been fully above board.
A federal procurement body, the Government Accountability Office (GAO), upheld two of IBM's points, spurring a re-evaluation. In response, Amazon lodged a complaint which argued that a re-evaluation was unnecessary, and slung mud at IBM's – in Amazon's words – "materially deficient proposal". Wheeler's ruling on Monday sided with AWS.
Though Amazon's original bid came in over 50 per cent higher in price that IBM's original bid ($148m a year, versus IBM's $94m), Federal evaluators thought Bezos & Co's cloud was far superior to the IBM offering, classing it as a "superior technical solution".
"We are disappointed with the ruling from the U.S. Court of Federal Claims, reversing the GAO's recommendation to reopen the competition and correct flaws in the bidding process," IBM said in a statement given to gov IT mag FCW. "IBM plans to appeal this decision. This court decision seems especially inappropriate in light of the current times, since IBM's bid was superior in many ways, including being substantially more cost-effective. In addition, IBM has for decades supplied the government with proven mission-critical operations. The company remains committed to provide secure, reliable and robust cloud solutions to federal agencies."
IBM had not responded to requests for further information at the time of writing. Amazon declined to comment. ®
Update:
"We are pleased with the Court's decision and look forward to resuming our work on this important contract with our customer," an Amazon spokesperson said in a statement given to The Register on Tuesday.