Space boffins boycott Kepler 'scope talks after US bans Chinese guests
NASA says no to China delegates due to 'national security concerns'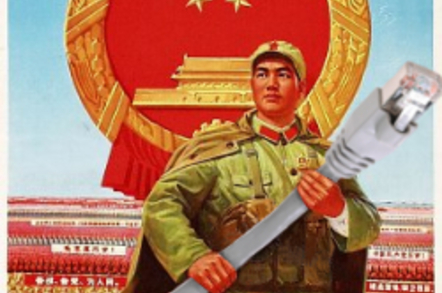 The global scientific community is up in arms after Chinese researchers were banned from an upcoming NASA conference on the Kepler space telescope for reasons of national security.
The key meeting is set to be held at the space agency's Ames research Center in California next month, but thanks to a US law signed by US President Barack Obama in March, applications from Chinese nationals were rejected, according to The Guardian.
The law in question, the Consolidated and Further Continuing Appropriations Act of 2013, contains key passages designed to reduce the threat of government espionage, especially from China.
It prohibits, for example, various US government departments and agencies from buying any IT systems "produced, manufactured or assembled" by any organisation which is "owned, operated or subsidised" by Beijing.
It also bans NASA from hosting "official Chinese visitors" at its facilities.
The conference was apparently set to be one of the most important of the year covering developments in the Kepler space telescope project, which aims to seek out planets similar to Earth outside the solar system.
Unsurprisingly, the scientific community isn't pleased.
University of California astronomy professor Geoff Marcy branded it "completely shameful and unethical" and apparently refused to "attend a meeting which discriminates in this way".
Professor Debra Fischer, an astronomy researcher at Yale University, has apparently withdrawn from the conference along with her team, while British Astronomer Royal Sir Martin Rees branded the ban "a deplorable own goal by the US", according to The Guardian.
The ban would probably hold more weight were it not for two high-profile gaffes from US officials earlier this year.
First, there was the dramatic arrest of former NASA employee Bo Jiang as he boarded with a one-way ticket to China on suspicion of smuggling top secret research out of the country.
Jiang was accused of espionage by Congressman Frank Wolf (R-VA) – the same lawmaker who helped to put the new rules on China and its nationals on the books – after he had been tipped off by a NASA whistleblower.
However, in May Jiang was exonerated, after his laptop was found to contain porn and pirated movies, not state secrets.
Also in May, lawmakers were furious after it emerged that the Pentagon leased a Chinese commercial satellite to help communications with its African bases. ®
Sponsored: Detecting cyber attacks as a small to medium business