AMD details new low-bucks, high-oomph graphics cards
Two top-of-line cards still waiting in the wings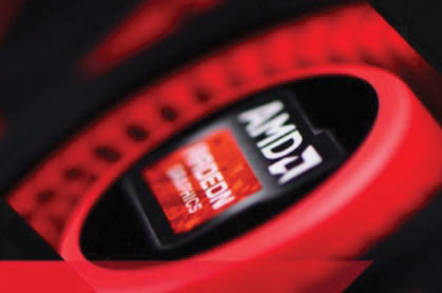 AMD has announced more details on some members of the two new series of Radeon graphics cards it introduced as last month came to a close – the R7 and R9 lines – each based around the company's Graphics Core Next (GCN) architecture and Mantle low-level API optimizations, and introducing AMD TrueAudio technology.
The cards aren't the first to use GCN – the first card to use it, the Radeon HD 7970, came out nearly two years ago – but they are the first to drive that architecture down into the double-digit price range.
Sharp-eyed Reg readers will notice that AMD has adopted a new branding strategy for its cards. The "HD" moniker has been discarded, and the product lines have been clearly divided into two ranges.
The R9 series, AMD desktop discrete graphics product manager Evan Groenke told The Reg, "is for those that really want the best. The want the highest-end graphics, they want the highest FPS, they want all the graphical features."
The R7 series, he said, is for users who appreciate good graphics and audio, "But they're not spending that $300-plus on it, they're looking at $150 or so." Or less, in some cases: the R7 240 will list for $69 and the R7 250, $89.
Still, at those prices, the 240 and 250 aren't exactly chumps when it comes to specifications. Rather than simply rattle off the various and sundry feeds and speeds, here are the spec slides from Groenke's presentation: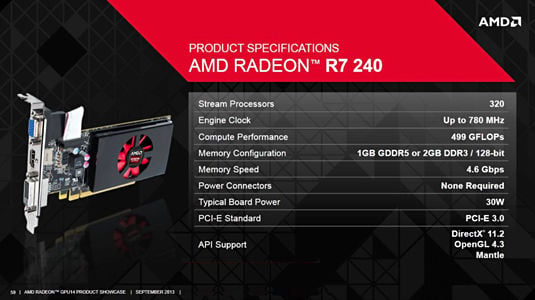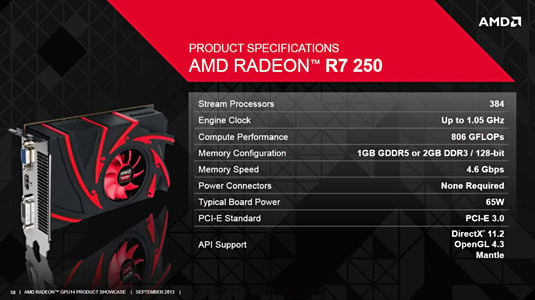 Things get more interesting, however, as you march up the product line to the top slot of the R7 series, the 260X, which is designed to satisfy what Groenke described as the 90 per cent of the gaming graphics-card buyers who are spending under $150.
The $139 R7 260X is the only one of the cards detailed on Tuesday that features AMD's new TrueAudio technology – although it doesn't take much imagination to believe that either or both of the cards for which details won't be released until later, the top-of-the-line R9 290 and R9 290X, may also be so endowed.
TrueAudio gives game developers a programmable audio pipeline on the GPU that should not only help defeat out-of-sync sound, but also provide a dimensionality superior to what devs can currently provide to their games.
"What we ended up doing," Groenke said, "was adding a bunch of DSP cores from Tensilica onto our ASIC." These programmable DSP cores remove the audio chores from the CPU and allow for the compression of 128 individual audio streams down into 7.1-channel audio, or even 2.1-channel audio, if you should so desire. "You can get fantastic positional audio with headphones," he enthused.
In terms of overall graphics performance, Groenke compared the R7 260X to the Radeon HD 5870, which launched in 2009 for $379. "Everybody wanted that," he said. "It was a very desirable product. 2013? More performance, $139, huge performance, huge value, single power connector, 6.6 inches."
On cannot call Groenke tepid in his enthusiasm about his product line, but to be fair, he did have some numbers to back up his claims: the R7 260X scores 3,732 on the 3DMark FireStrike benchmark versus the HD 5870's 3,305.
In addition, as would any proud-papa product manager, he also compared the R7 260X to the competition, showing a chart that compared it to another card in its price range, Nvidia's GeForce GTX 650 Ti when running a dozen different games, from Battlefield 3 to Tomb Raider to Crysis 3 to Skyrim and others. Needless to say, the R7 260X outperformed the GTX 650 Ti in all of them, with DiRT Showdown running a full 60 per cent faster.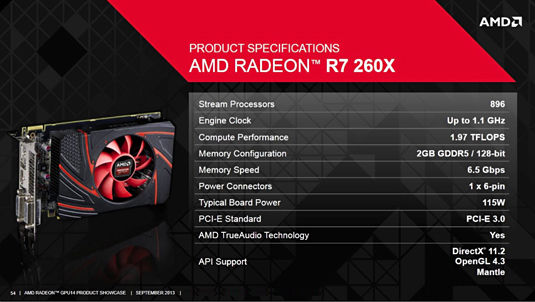 Moving further up the product stack into the R9 series are the $199 R9 270X and the $299 R9 280X. Referring to the 270X, Groenke said, "If you're a serious gamer, that's the real entry point there. Not to say that you can't do it on the ones below, because you actually can, but it's a good starting point."
The 270X, he told us, is meant to play at full 1080p with "everything dialed up," noting that 1080p IPS displays are now available in the $200 range, so equipping you gaming rig with one is not a budget-buster.
According to Groenke, the $199 R9 270X will provide about twice the performance of 2009's Radeon HD 5850, which cost $329 at launch, citing the 270X's 5,557 score on the 3DMark FireStrike benchmark versus the HD 5850's 2,772. He also compared the 270X running Battlefield 3, Tomb Raider, and Hitman: Absolution at 1920-by-1080 pixels versus an Nvidia GeForce 660 running the same games at the same resolution, and claimed performance improvements of 49, 26, and 45 per cent, respectively.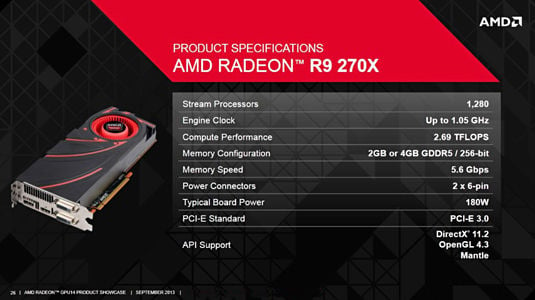 The R9 280X, as might be imagined, ups the ante for the extra hundred bucks, most notably by adding nearly double the stream processors, a 384-bit memory pathway providing 6Gbps throughput, and a full 4.1 teraflops of performance.
The 280X, Groenke explained, is designed for gamers who have higher-resolution displays, and will have a frame buffer of 3GB GDDR5 "by default" – the 270X comes with 2GB, though some AMD partners will bring out their own versions of it with 4GB for an extra thirty dollars or so.
That 3GB threshold, he said, is important if you happen to be a fan of the Battlefield series: Battlefield 4 specs 3GB as the recommended memory size; Battlefield 2 recommended what now appears to be a rather paltry 1GB. "We're basically following industry trends," Groenke said.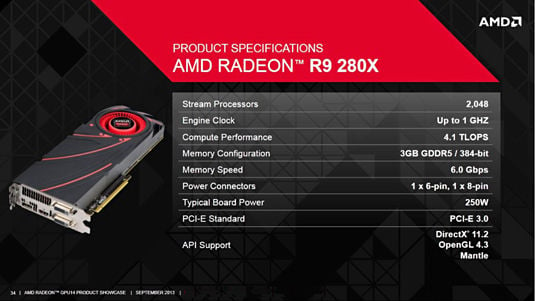 Groenke trotted out performance comparisons between the 280X versus the Nvidia GeForce GTX 760 – which has an equal memory bandwidth but to only 2GB of GDDR5 over a 256-bit bus – running Battlefield 3, Tomb Raider, and Bioshock: Infinite at a resolution of 2560-by-1440 pixels. As you'll likely guess, the 280X was faster in each case, by 20, 39, and 25 per cent, respectively.
As we mentioned above, there are two more cards to come in the R9 series, the 290 and 290X. AMD, howver, is holding back detailed information on them until a later date. Perhaps they want to keep the performance – and the prices – of those cards from muddying up the impact of their $299-and-less items fully detailed on Tuesday. ®