IP rights are for the PRIVILEGED FEW – media studies bods
If the data doesn't fit your hypothesis, muddy the waters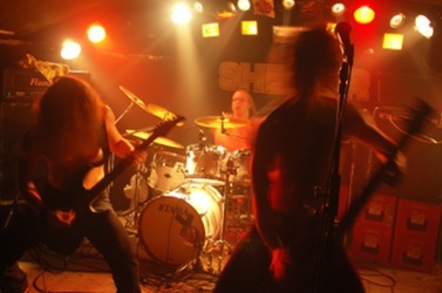 Comment When it comes to creators' rights, the dividing line between activist zealots and impartial academics on creators and IP seems to have melted away long ago. A case in point: two of El Reg's favourite Media Studies lecturers, the LSE's Bart Cammaerts and Binchung Meng – who first featured here in 2011 – are back (along with one Robin Mansell) with the same political message against creators' property rights – or, as Meng might have it "peer productions" caught "in the web of the commercial market".
Like the last one, it has the subtlety of a sledgehammer: it's really a manifesto with a couple of Excel charts thrown in. So how well is the case made?
As before, the point of the manifesto is that enforcing creators' rights is counterproductive, "because of the spread of practices that depend on sharing and co-creation and easy access to creative works" – ie, without paying for them. Enforcing creators' rights "privileges" copyright owners over others, we're told.
The evidence that Cammaerts and Meng offer in support of their hypothesis is that the industries they examine are actually doing fabulously well. As proof, they present the following graph. No units are shown for the Y-axis, although sharp eyes will have spotted the "USD million" shoehorned into the graph's title.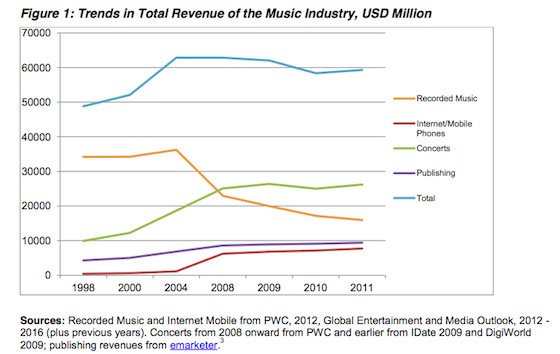 "The drastic decline in revenues warned of by the lobby associations of record labels is not in evidence."
You can spot the problem. The decline in revenue that record labels warned of is as clear as day: it's halved. To confuse the picture, Cammaerts et al throw in the figures for another market, live music. The people who operate in recorded music and who sell concert tickets are separate groups of people. The labels' lobbyists never warned of a decline in live music.
Another chart is shown with an increase in digital revenue as a percentage of overall recorded music revenue. In other words, as people stopped buying tapes, they bought more iTunes downloads and listened to more digital streams instead. This doesn't really support the case that the recorded music industry is thriving: to say that, you have to look at the overall revenue picture.
In fact, as Mark Mulligan points out, live revenues are problematic and inflated by wrinklies extorting baby boomers one last time: ticket prices rose 34 per cent in the last decade – and 60 per cent of the top 20 grossing live acts are aged 60 or over.
You may well argue that 1999 was a peak year for recorded music because the music industry had made us buy our old records all over again: it was the year CD sales peaked. That's not a trick it can pull off again. But Peak CD was 14 years ago. Revenue from digital formats should now be higher than it is: distribution costs are lower, and buying is easier than ever – a punter in what's now a global marketplace can buy or stream a song in an few clicks, turning on the revenue tap for creators. The fact digital revenue has to raise more money suggests a very unhealthy market. And one of the possibilities that the market isn't healthy is that buying music is now optional. To get the music, you don't have to pay the creator – you can just steal it.

Cammaerts (pictured right), who specialises in "transnationalisation" and "social change and counter-hegemonic strategies of resistance", disagrees. However, you can create a "sharing culture" that respects rights and maintains economic incentives – you just have to ensure money flows into the creators' pockets. This is not discussed in the paper.
You can find the study, "MEDIA POLICY BRIEF 9: A Case for Promoting Inclusive Online Sharing" here [PDF, 18 pages]. ®