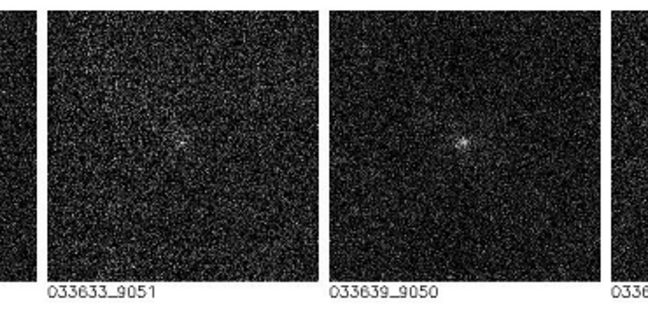 NASA's Mars Reconnaissance Orbiter circling high above the red planet has taken a break from its normal assignment of staring down at the ochre world beneath to get some snaps of Comet ISON as it passes by en route to the inner solar system.

Not going to set the world on fire. Or even the sky
Despite the fact that the orbiter used an instrument dubbed HiRISE - for High Resolution Imaging Science Experiment - the actual comet itself failed to fill more than a measly pixel. Disappointed NASA boffins wrote:
HiRISE saw a small spot at the position of ISON that is relatively bright, like a star, but moving relative to actual stars. The comet's coma is apparently very faint ...

... the image isn't visually pleasing ...
ISON was discovered by Russian astronomers last year, while it was still out beyond the orbit of Jupiter. It's thought to be a new comet, on its first plunge into the solar system from the Oort Cloud. Its path will take it within three-quarters of a million miles of the Sun at the end of November, so that if it was a big 'un it would perhaps have developed a spectacular sky-dominating tail. However this now doesn't seem at all likely.
Even so the NASA scientists offer some hope.
"As the comet gets closer to the sun, its brightness will increase to Earth-based observers," they write. "The comet may also become intrinsically brighter as the stronger sunlight volatilizes the comet's ices."
There's still hope of naked-eye visibility for ISON, even if not really any that it will be the comet of the century.
Keep watching the skies. ®
Sponsored: Webcast: Simplify data protection on AWS