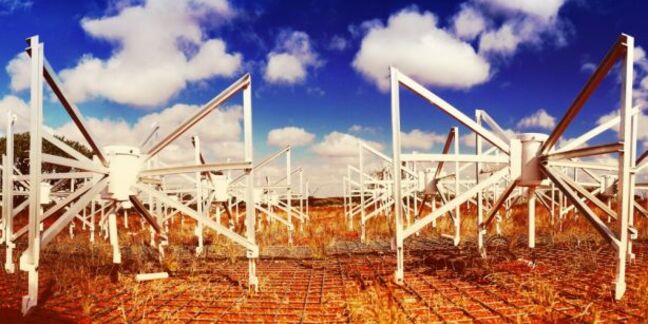 The Murchison Widefield Array will soon have the mantle of the highest-capacity link in the most remote location in Australia, courtesy of a national upgrade to the AARNet network.
Although it's 300 km away from the city of Geraldton, the AARnet upgrade will deliver transmission speeds of up to 8 Tbps to Murchison at one end of the link, down to Perth, and east to Adelaide.
The network upgrade spans a total of 3,500 km, and the technology rolled by the research network and supplier Cisco is believed to be one of the world's longest unregenerated high-performance optical networks.
The MWA-Perth link will carry data from the astronomical fire-hose to supercomputers housed in the Pawsey Centre in Perth. Initially, the MWA-Perth connection will be configured to carry a mere 100 Gbps of data, and all links in the network are now active, with peak capacity currently running at hundreds of gigabits per second, AARNet says.
According to AARNet's infrastructure development manager John Nicholls, "Cisco pushed the technology to the extreme to meet our desire for an unregenerated network from Adelaide to Perth. We kept pushing the boundaries - it's jaw-dropping that we've got it working all the way to the MRO unregenerated."
The length of the run meant that the network is traversing links that were constructed at different times using different standards such as G.652, G.655 and G.652ULL, and to get it all to hang together, Cisco used "a mix of Raman and EDFA amplification along with coherent optical modulation techniques", according to this statement. ®
Sponsored: Ransomware has gone nuclear