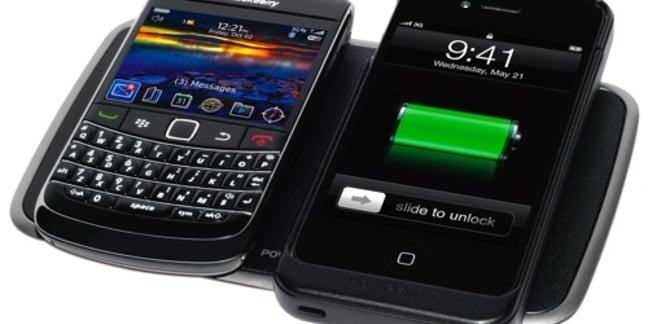 Not content with founding the A4WP, and joining the board of the WPC, Qualcomm has now spread itself all across the various wireless power alliances by signing up to the PMA too - while Samsung sinks $4m into Qi-producing PowebyProxi, and alternatives look increasingly weak.
Qualcomm is now on the board of two competing standards for wireless charging, and a member of the third, while Samsung is only on the board of one but remains a member of the other two and has now invested $4m into a company firmly tied to one of that pair: all of which promises to get more complicated before it gets simpler.
The Alliance for Wireless Power was founded by Qualcomm and Samsung in May last year. It has proximity charging - up to 5cm or so - promising a world of chargers concealed within furniture and furnishings, but hasn't got any devices out of the door. When they come they'll make use of Bluetooth Low Energy to handshake prior to charging.
This is something of a surprise as A4WP is build on technology from Qualcomm-acquired WiPower, and that did all its signalling in-band as Qualcomm emphasised at the time - but now the Alliance has switched to Bluetooth LE for the handshaking phase.
The Alliance argues that this gives greater control when charging multiple devices, so a phone might take priority over an e-reader on the same pad, and charging should commence faster: but as there are no phones, e-readers or pads we'll have to take their word on it.
The Power Matters Alliance, meanwhile, is very excited to announced that Qualcomm has joined its membership, arguing that its presence in Starbucks will prove a trump card in the race to mass adoption.
"Not only is [PMA] by far the fastest growing industry organization, but it is the only standard that is being deployed in venues that consumers frequent and care about most", we're told.
Qualcomm is indeed a member, but not on the board which is restricted to a handful of non-competitive companies. Those Starbucks chargers aren't easy to use either, as PMA requires a replacement case or sleeve before any device can make use of it.
The PMA strategy is to start with infrastructure - get chargers into Starbucks in Boston and Silicon Valley and the customers will demand compatible kit. The founders claim this is how wi-fi became popular, which might be true in Silicon Valley but in the rest of the world we were using our own access points well before we started logging on in public.
Which brings us to the Wireless Power Consortium, whose Qi-compatible charging points can be found in Coffee Bean and Tea Leaf Shops but (perhaps more importantly) are available from a dozen different manufacturers listed on Amazon. The Qi logo has even started turning up on non-compliant products, which the WPC says is proof of its popularity even if it represents something of a problem too.
The WPC is in the process of extending Qi to incorporate resonance charging (at similar distances to A4WP) and that Qualcomm's membership brings some important technology (and patents) to that effort. Patents aren't exerted on receivers (handsets and such) and are capped on transmitters (chargers) to ensure wide-scale adoption.
WPC's Qi standard has also been adopted by the Consumer Electronics for Automotive body, representing 30 per cent of vehicles manufactured (but not those made by GM). They looked at the A2WP and PMA standards and went with Qi, a decision which the WPC points out is a long term commitment given the lifecycle of the average car, especially when compared to a table in a coffee shop.
The battle for wireless charging isn't over, but the WPC has made excellent use of its first-mover advantage to get embedded in devices. A4WP is going to have to be spectacularly better to best that, while PMA has already demonstrated that it's comparable at best. We've always been pretty cynical about wireless charging, but comments on our previous stories seem to show users come to like it pretty quickly, and perhaps when there is one standard we'll all get used to doing without wires. ®
Sponsored: How to simplify data protection on Amazon Web Services