Steve Jobs AIRBRUSHED from history by APPLE months before his death
Dying billionaire biz tyrant vanished from Shanghai door patent during medical leave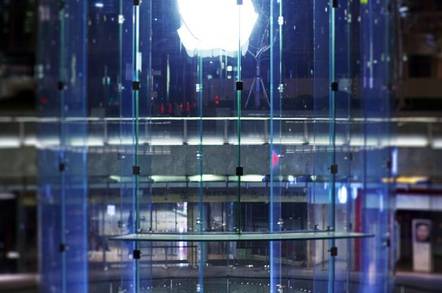 Apple has been awarded a patent for the huge glass door and hallway that welcomes fanbois into its Shanghai shop.
The fruity tech giant is known for the extravagant exteriors of its iThing emporiums. But this particular portal looks more like the engine room of a spaceship than a phone store entrance: it's made of curved glass panels with a large glowing Apple logo seemingly floating overhead, calling the faithful to prayer.
The patent [PDF] was filed in 2011 and finally rubber-stamped yesterday by American officials.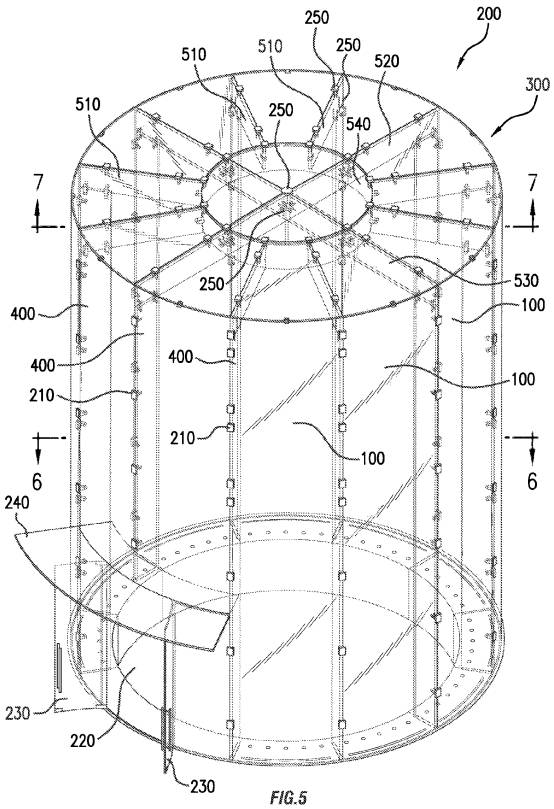 Warp core or doorway? The patented design, submitted in 2011. Label 220 points out where you enter the thing (Source: US Patent and Trademark Office)
Apple co-founder Steve Jobs has put his name on previously patented bits and pieces of his company's glass-filled shops. But he is noticeably missing from this week's approved patent, and the timeline below suggests why:
The Shanghai front-door's iTimeline

July 2010: A simple design patent describing the Shanghai shopfront with sketches is filed to the US patent office with Jobs listed as an inventor.

January 2011: Steve Jobs steps back from running Apple day to day as his health begins to fail for a final time.

May 2011: An in-depth follow-up patent, intricately describing how the glass door and hallway is built, is filed - but without Jobs' name on it.

October 2011: Jobs dies aged 56.

March 2012: The initial design patent is granted by the US patent office.

October 2013: Two years after the Apple CEO's death, the full Shanghai iDoor patent is granted.
An early design patent [PDF] for the cylindrical doorway, filed in July 2010, has few details about the structure beyond some sketches. Steve Jobs is listed among its inventors. It was submitted shortly before the Shanghai store opened to the public in mid-2010, and was approved by US officials in March 2012.
But the billionaire was missing from the list of applicants in the patent granted yesterday, which was filed in May 2011 and has in-depth details about the hallway's construction.
Perhaps that's because in January that year, the gravely ill biz baron started his third and final medical leave of absence - five months before this latest paperwork was submitted and ten months before his death in October 2011.
He's only mentioned once in the latest patent, in this line: "U.S. Patent No. 7,765,362* to Jobs et al., issued Jan. 23, 2007, describes laminated glass structures, and is incorporated by reference herein in its entirety."
The Shanghai iDoor uses panels of curved glass to form a cylinder that is supported by glass beams. A shallow moat of water surrounds the cylinder and a set of steps leads down to the iThing bazaar beneath. Apple is particularly strict about the design of its shops, and tries to protect the layouts to ward off copycats.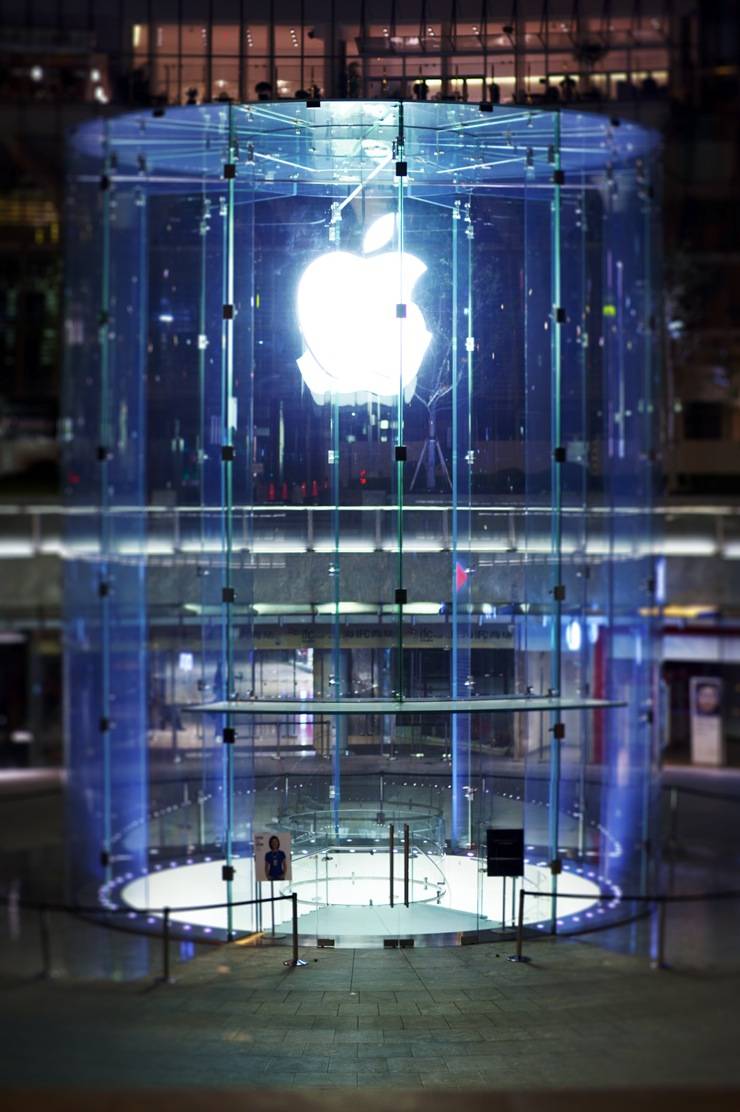 Glowing lure ... What the Shanghai store actually looks like (Source: Mgmoscatello)
The latest cylinder doorway patent is number 8,544,217 and is titled Glass building panel and building made therefrom. The inventors are listed as David Andreini, Karl Backus, Jon Cooksey, Tim Eliassen, Scott David, Holger Krueger, Peter Lenk, James O'Callaghan and Yutang Zhang. ®
Bootstrap note
* Curiously, a search for patent number 7,765,362 reveals instead a design awarded to IBM in 2010 that describes a fast way of booting up a computer system.
Sponsored: Detecting cyber attacks as a small to medium business