Curiosity keeps on trucking despite government shutdown
97% of NASA told to stay at home for 55th birthday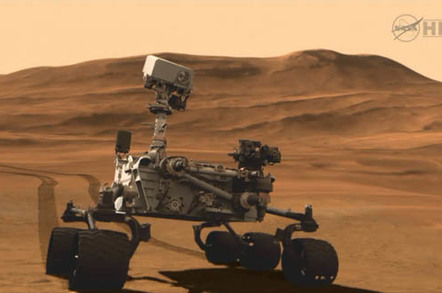 Despite media reports to the contrary, the Curiosity rover is continuing to operate on Mars and is carrying on with its year-long trip to the base of Mount Sharp despite the US government shutdown.
"Because the Jet Propulsion Laboratory is operated by the California Institute of Technology as a contractor, JPL employees are reporting to work as usual and rover operations are continuing today," a JPL spokesman told The Register. "Driving and other rover activities are continuing. Any changes to JPL's status will be assessed on a week-by-week basis as events unfold."
That said, the rover is one of a very few projects under NASA's remit that is still working after Congressional intransigence caused the government to shut down all nonessential services. NASA mission control is also staying at their posts to make sure that the crew of the International Space Station remains fully supported.
"To protect the life of the crew as well as the assets themselves, we would continue to support planned operations of the ISS [space station] during any funding hiatus," reads NASA's furlough plan.
"Moreover, NASA will be closely monitoring the impact of an extended shutdown to determine if crew transportation or cargo resupply services are required to mitigate imminent threats to life and property on the ISS or other areas."
But the vast majority of the agency's activities are offline and over 18,000 staff have been sent home – some 97 per cent of NASA's workforce. Under federal law, staff aren't supposed to work in the current hiatus, but at least one NASA staffer El Reg has spoken to is using the time to catch up on his paperwork.
In the meantime, the agency's website is down, there are no public events, and work on future missions has been temporarily halted. Even the Asteroid Watch team that keep an eye out for Earth-threatening objects in space are on furlough, although NASA said that many observatories are still contributing data to the threat map of our skies.
All in all it's a sorry 55th birthday for NASA. The agency came into being on October 1, 1958 after being set up by President Eisenhower, who also established the Defense Advanced Research Projects Agency (DARPA). One wonders what he'd make of the unholy mess the US is in now.
Sponsored: How to get more from MicroStrategy by optimising your data stack