GTA V Online hits speed bumps: Short wait before you can rough up that hooker
Word. Let's bounce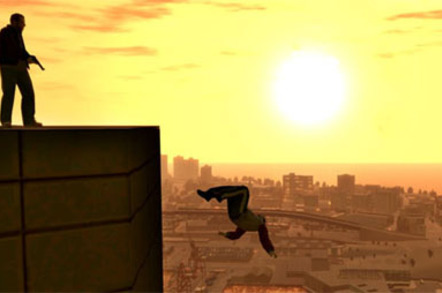 Gamers keen to get online and play Grand Theft Auto V against humans rather than machine intelligence have had to wait after server problems left them stymied.
Grand Theft Auto Online: We are aware that some users are experiencing issues and we are working with @RockstarGames to resolve

— PlayStation (@PlayStation) October 1, 2013
The online version of GTA, available to all console owners who bought the game, allows up to 16 players to inhabit the sprawling playing area of Los Santos. They can create new characters, play special missions, and set up private headquarters stuffed with custom cars where other players can be invited for private parties – albeit with some restrictions.
"We've designed house party invitations specifically to be a friendly social affair where players can visit each other's pads without fear of having them ruined or losing their hard-earned vehicles in the process," Rockstar said. "If someone invites you into their property, then it is considered a friendly visit and you will not be able to shoot up their place or steal their cars from their garage."
GTA Online went live on Tuesday, but almost immediately players began reporting difficulties in logging on or accessing missions. To be fair, Rockstar had warned last week that there could be "teething problems" with the game's launch.
"The first couple of weeks we expect to be heavily focused on tuning the experience as it goes from internal testing to the reality of being played by tons of people in the real world so that all the usual teething problems for an online game are overcome," it said. "We hope it will all run incredibly smoothly, but please bear with us if it doesn't, and help us fix any and all problems!"
Certainly Rockstar seems, so far, to have avoided the now-notorious disaster of the launch of SimCity Online by Electronic Arts' subsidiary Maxis. That much-anticipated game was crippled by server problems, leading eventually to refunds from the firm. The CEO of EA resigned shortly afterwards.
SimCity was eagerly awaited by many gamers, but the load on Rockstar will have been greater since GTA is one of the most popular games of all time. Rockstar spent five years and $170m making the game, and reaped a billion dollars in sales within three days of its launch.
The company has also sought to allay fears among gamers about the introduction of in-game purchasing that allows players to buy special cars, weapons, and tools for real-world cash. Such systems have been criticized in other games for allowing well-off players to buy an unfair advantage, but Rockstar said this had been taken into account.
"We can assure you that the game is designed such that the option of purchasable GTA$ should not disrupt the playing field – and there are a few mechanics in place to help ensure that," it said in the release notes. "No one can begin GTA Online and simply spend a lot of money out of the gate to get a leg up. You will have to earn your stripes." ®
Sponsored: Detecting cyber attacks as a small to medium business