DEAD STEVE JOBS kills Apple bounce patent from BEYOND THE GRAVE
Biz tyrant's iPhone bragging ruled prior art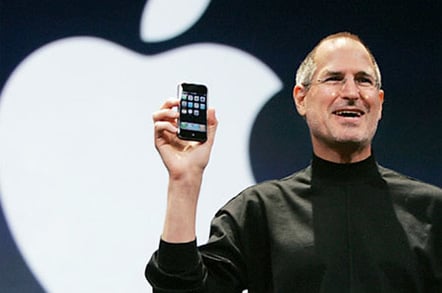 Vid The late Apple baron Steve Jobs has critically wounded one of his company's key "bounce to update" related patents in Europe.
A German court has nixed a photo-gallery app design, filed by Apple in June 2007, after a video of Jobs demonstrating the software with the rubber-band bounce effect five months earlier was deemed prior art.
The ruling emerged from Google-owned Motorola's legal fight to overturn a sales ban won by Apple in Germany - the iPhone maker had claimed its touchscreen photo management patent was infringed by Googorola's devices. The Federal Patent Court of Germany, in Munich, declared that patent invalid on Thursday, which opens the door to overturning the injunction.
Samsung, also accused of ripping off the photo-gallery design, was battling a similar ban in another German court, but that case was paused until the Moto decision was made. It's assumed that legal showdown could collapse now that Apple's patent has been tossed out on its ear.
The now invalid photo-gallery patent (in Germany, at least) is part of the family of designs protecting Apple iOS's fiercely guarded "rubber band" bouncing effects, which lie at the heart of the whole matter.
The bouncing effect is triggered when you scroll to the end of a page on an iPhone, iPod or iPad, and acknowledges that you wish to check for more information. It's still used in iOS 7. The animation is said to have been one of Jobs' favourite iOS features.
The bouncing screens made their way into Android after the iPhone launch but had to be stripped out of the mobile platform and replaced with an expanding bar. This bleeds into the last item on a list and isn't as intuitive as the effect pioneered by Apple.
When it launched the iPhone, Apple hadn't - astonishingly - got round to patenting the rubber-band effect. This didn't matter in the US, where inventors are used to having a year to show off their stuff before filing a patent, but it does matter in Europe – and Googorola has now convinced a judge that footage of the iPhone launch in early 2007 represents prior art.
Below is a video of tech tyrant Jobs demonstrating the user interface on the first iPhone six years ago to the world while claiming (rather mistakenly) "boy, have we patented it":
Apple has enhanced its digital recoil function, and patented those enhancements, but lawyers for Samsung and Moto successfully argued that the changes aren't significantly innovative and that Steve's video invalidates them all. Within Europe, at least.
Apple will doubtless appeal against the court's finding. Even if they don't, Cupertino's US patent means Android users aren't likely to get bouncing menus any time soon; it's just one more round in the ongoing fight over who owns the best interface elements with Samsung and Googorola chipping away at Apple's war chest.
As so often in these cases we're grateful to copyright blogger and Microsoft consultant Florian Mueller who spends his time hanging around the patent courts, scooping up interesting odds and ends. Some readers have expressed concern at Florian's impartiality, and one might disagree with his conclusions, but his discussion of the implications makes interesting reading. ®