BlackBerry ripped itself apart wooing CIOs AND iPhone fanbois - insiders
Touchscreens fiddled while RIM burned
Rows over whether BlackBerry was at its best as a hardware or software company led to years of paralysis, and the departure of its twin CEOs, insiders now claim.
BlackBerry had grown because it offered a unique end-to-end bundle of hardware, software and a network. But as newcomers entered the market, the company couldn't decide which part of this bundle was the most valuable, we're told.
In the most detailed history yet of the phone maker's spectacular decline, Canadian newspaper the Globe and Mail spoke to former executives and delves into the reasons behind the fall at great length.
The report suggests that Jim Balsillie, who joined RIM when it was still a software startup and ran the business side for 15 years as "co-CEO" saw the future in software. Balsillie wanted to sell the messaging platform BBM and bundled services, including cloud services, to operators, creating an industry standard. In brief, he thought hardware had become commoditised.
"Balsillie began floating the idea that carriers could instead offer BBM as their own enhanced version of text messaging, generating revenue for carriers while providing a cut for RIM," the Globe and Mail reports.
"He called it 'SMS 2.0'. RIM would agree to reduce the fees it charged for services, in exchange for gaining access to hundreds of millions of non-BlackBerry users," the paper added.
Carriers could offer a cheap data plan that ran on any phone and used BlackBerry's network, under Balsillie's vision, and also offer a premium bundle that included cloud storage and services. RIM had begun life as a carrier software company, so these were customers Balsillie knew well. However, co-CEO and RIM founder Mike Lazaridis lobbied to scupper the idea, which was finally killed off by replacement CEO Thorsten Heins last year. Balsillie ended up resigning and selling all his RIM stock.
Ironically, BlackBerry announced in May it would open up BBM to iOS and Android – but by then third-party messaging clients such as WhatsApp had amassed hundreds of millions of users.
The Globe and Mail report also discusses why BlackBerry OS 10, the QNX-based operating system that finally debuted this year, was so late, and felt un-BlackBerry-like for loyalists. It turns out a year was spent discussing what to do with it after RIM purchased QNX in April 2010.
Back then BB10 was entrusted to a QNX team unfamiliar with BlackBerry software, the paper suggests. Although it's a mature embedded system, it was an all-new platform to the engineers. And integrating any OS with cellular networks always takes years longer than people think, as veterans of the original smartphone wars between Symbian and Microsoft will know.
"By the time the first BlackBerry 10 smartphones were unveiled in January of this year, market observers generally agreed that the products were two years too late – a view widely shared among many senior RIM insiders," the paper notes.
RIM's ancient BB OS prior to version 10 was unable to handle 4G/LTE mobile broadband – an echo of what caused Palm to change horses. The original PalmOS couldn't handle 3G cellular protocols. We also learn how BlackBerry was told by enterprise CIOs not to include cameras, music players or photo apps on future BlackBerrys. In public, RIM's two CEOs rubbished the competitive threat of the iPhone. But privately, Lazaridis told his staff: "If that catches on, we're competing with a Mac, not a Nokia."
"When RIM executives showed off plans to add camera, game and music applications to its products to several hundred Fortune 500 chief information officers at a company event in Orlando in 2010, they weren't prepared for the backlash that followed. Large corporate customers didn't want personal applications on corporate phones, said a former RIM executive who attended the session," according to the report.
The paper also confirmed Lazaridis' long-standing antipathy to touchscreen phones, and his loyalty to enterprise customers.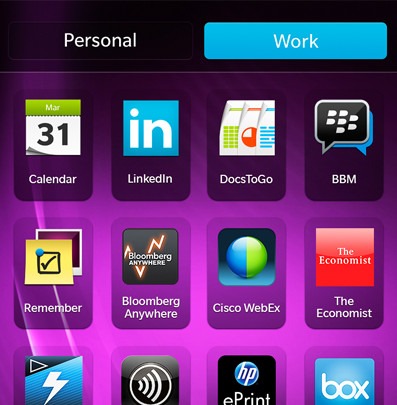 BlackBerry's Balance partitions corporate and personal apps, data and app stores
With the benefit of hindsight, chasing the iPhone market with an entirely new touchscreen platform in 2013 seems absurd - and focussing on enterprise and "prosumer" markets seems like an obvious refocusing that's long overdue. But BlackBerry is not alone: other hopefuls include Samsung with Tizen, Mozilla OS, Sailfish and Ubuntu. All think there's room in the touchscreen market for a newcomer.
And it's far from clear to anyone what a "prosumer" device would look like. It would still need a digital music player, presumably, and a competitive camera. RIM became heirs to the corporate pager market – but it's not clear that that's ever coming back. BlackBerry has tried to square this circle with its secure partitioned BB10 environments, BlackBerry Balance, separating out work apps and data from personal apps and data to keep enterprise and prosumers happy.
BlackBerry was undoubtedly cushioned and perhaps even distracted by its phenomenal growth. In 2007, the year Apple launched the iPhone, RIM recorded revenue of $3bn. The following year, in which iPhones first outsold BlackBerrys, it doubled to $6bn, and again to $11bn. By its peak in 2011 RIM was awash with cash, with almost $20bn in gross income and $3.4bn profit. It was really Android that prompted BlackBerry's rapid decline.
The full report, an incomplete but enthralling first draft of history, can be found here. Finnish paper Helsingin Sanomat did a similar job with Nokia in 2010 [original here].®
Sponsored: Detecting cyber attacks as a small to medium business