APPLE is the new COCA-COLA: Bubble-beverage globocorp beaten by Foxconn rebrander
And by huge ad firm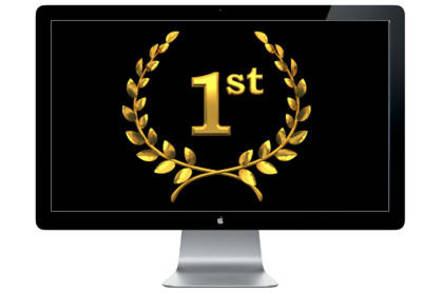 Apple and Google have overtaken Coca-Cola to be named the number one and two brands in the world, respectively, according to a bunch of consultants.
The fruity firm took the top spot in Interbrand's run down of the world's biggest brands, followed by the web advertising giant in second place. There were five other tech companies in the top ten, which Interbrand said "underscores the fundamental and invaluable role they play in consumers' lives".
All in all, we're told the total value of the top 100 global brands is $1.5 trillion - a 8.4 percent increase on the 2012 list.
Samsung is nipping at Cupertino's heels at number eight, reaching that position despite having "surpassed Apple in smartphone sales and appears to be leading the tech sector in terms of connectivity and home automation".
"Every so often, a company changes our lives — not just with its products, but with its ethos. This is why, following Coca-Cola's 13-year run at the top of Best Global Brands, Apple now ranks #1," said Jez Frampton, Interbrand's global chief exec.
When drawing up its rankings, Interbrand considers a firm's financial performance, the role it plays in "influencing consumer choice" and "the strength the brand has to command a premium price, or secure earnings for the company". It uses this to suggest a firm's "brand value".
Apple has appeared on the Best Global Brands since the very first list was drawn up in 2000. Back then it ranked at number 36 and was worth a relatively piddling $6.6 billion, according to Interbrand. Now it's right at the top of the list with a brand value of $98.3 billion, which is more than 15 times its original value.
The fruity firm was praised for providing a "seamless omnichannel experience", whatever that means, and that it's able to manipulate the desires of fanbois across the world and then flog them loads of iStuff.
Frampton alleged: "The top 100 most valuable global brands are unlocking their value by participating, listening, learning, and sharing – and not just with leaders from within their organization, but..."
And so on, and so forth.
Google was also bigged up for allegedly making, it says here, "evolutionary changes" to search, Android and Gmail, as well as experimenting with self-driving cars and giving Google Glass headsets to a lucky few beta testers.
The web titan is the second fastest rising brand behind Facebook, which increased its brand value by 43 percent and rose to position 52. Mark Zuckerberg's advertising empire was praised for increasing the number of users who regularly log in by 26 percent since its IPO last year.
The total brand value of the entire tech industry is $443.154 billion, Interbrand concluded.
Here are the top 20 brands:
Apple
Google
Coca-Cola
IBM
Microsoft
General Electric
McDonald's
Samsung
Intel
Toyota
Mercedes-Benz
BMW
Cisco
Disney
HP
Gillette
Louis Vutton
Oracle
Amazon
Honda
Battery builder Duracell also made it onto the list for the first time, albeit at number 85. ®