Rare gold iPhone 5s goes up against 50 caliber high precision rifle
Super slo-mo shots of super speedy shots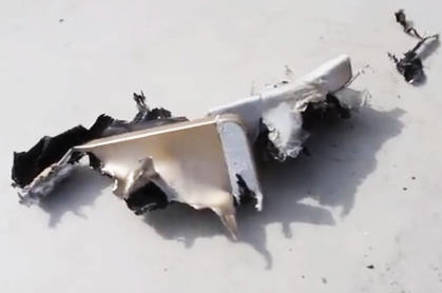 Video iPhone haters are a dime a dozen, but it takes an especially hearty helping of heated hostility towards Apple's latest shiny-shiny to go after one with a 50-caliber Barrett M82A1 high-precision rifle.
Actually, we have no idea whatsoever whether Richard Ryan harbors any personal animosity to Cupertino's new iPhone 5s, but we do know for a fact that he sure loves 'sploding, shootin', and otherwise savaging any number of inanimate victims, from tapping a beer keg with detonation cord to ridding the world of four cans of Coors Lite with an AK47, to eviscerating a Furby with an HK 416.
Now, lest you think Ryan is just your garden-variety gun nut enthusiast, know that he takes his destructive tendencies to the next level – approaching some weaponized variant of cinematic art, really – by filming his targets' demise in super slo-mo.
And thus was to be the fate of a brand new gold iPhone 5s.
The iPhone's opponent in this match was the M82A1, which Ryan describes as an "iconic" 50-caliber rifle. We'll certainly take his word for it about that designation, seeing as how M82s have been around since the early 1980s, and are used by over 40 countries (that we know of...). Prices for the M82A1 direct from Barrett range from $8,900 to $11,869.

A 50-caliber round traverses an iPhone 5s, in through the back, out through the front
According to the M82A1's Operator's Manual, the iPhone assassin has a muzzle velocity of about 2,850 feet per second when firing a standard 660-grain bullet, and a maximum range of about 4.25 miles.
The iPhone 5s, on the other hand, has a maximum acceleration of 32 feet/second2 when dropped, and a maximum range that depends upon the strength of your throwing arm.
Doesn't seem like an equal match, if you ask us. But you didn't, did you?
After drop-testing the doomed iPhone 5s on dirt, concrete, and into a bowl of water – only the dirt drop caused any damage, counterintuitively – Ryan introduced it to the M82A1. It didn't fare well.
An unlocked gold iPhone 5s sold on eBay this Monday for $10,100. To Richard Ryan, however, his was just another too-tempting-to-pass-up target. ®