US regulators seek public input on plan to investigate patent trolls
Will actually start investigating annnnnyyyy day now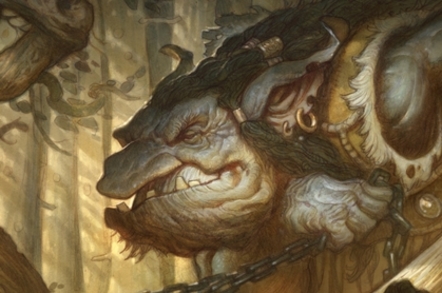 The US Federal Trade Commission is moving ahead – slowly – with plans to investigate the ways and practices of so-called Patent Assertion Entities (PAEs): patent trolls, to you and me.
On Friday, the FTC voted unanimously to seek public comments on a proposal to gather information from "approximately 25 companies that are in the business of buying and asserting patents," the agency said in a statement.
The full proposal describes the companies in question as operating in the wireless communications sector.
The FTC has been promising to probe the murky world of PAEs for some time. In December 2012, it held a workshop in conjunction with the antitrust division of the Department of Justice to gather public comments on the matter, but participants felt there wasn't enough empirical data available to judge the issues involved.
To rectify this, the FTC proposes to use its special powers under Section 6(b) of the Federal Trade Commission Act, 15 U.S.C. § 46(b), which allow it to collect nonpublic information from companies on such topics as their patent licensing agreements and cost and revenue data for their patent businesses.
"The proposed study would add significantly to the existing literature and evidence on PAE behavior," the FTC's statement explains. "Earlier studies have focused primarily on publicly available litigation data and concluded that PAE litigation activity is on the rise."
The FTC says it would like to know how PAEs acquire their patents, how their patent portfolios are organized, how they compensate the previous owners of the patents they acquire, and exactly how they go about asserting their patents against companies.
In addition, the agency seeks specific information on how much PAEs spend on their patent assertion activities and how much they stand to gain from them.
Each PAE investigated in the probe will be required to identify each patent it has owned since January 1, 2008, and to explain the patent's status, including such items as whether the PAE has ever litigated the patent, whether the patent is subject to a licensing commitment from a standards body, and whether anyone else besides the PAE claims legal rights or holds economic interests in the patent.
That last clause suggests that the FTC is devoting particular attention to the practice of "patent privateering", where companies that do actually make products also transfer portions of their patent portfolios to PAEs, who then assert the patents against the practicing company's competitors.
BlackBerry, EarthLink, Google, and Red Hat jointly submitted a letter to the FTC in April specifically requesting that it investigate privateering, claiming that the practice distorts market competition and unfairly inflates patent licensing costs.
Comments on the current FTC proposal may be submitted to the agency in writing or online via its website. The comment period will remain open for 60 days following the publication of the request for comments in the Federal Register shortly – so, roughly through November 27.
After that, the FTC will have the green light to issue subpoenas to the PAE companies in question. Just don't expect it to go charging in at full speed, given how slowly the process has moved so far. ®