Chinese building orbital lab by 2023 to make 'space medicine'
Not for weapons, honestly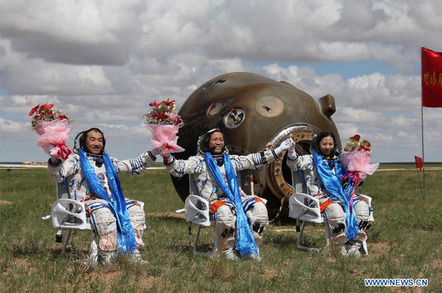 China has told the 64th International Astronautical Congress in Beijing that it plans to have a space station in orbit within the next decade, saying it will be used to study space medicine and study the effects on humans of spending long periods away from Earth's gravity.
The Nyu Wa space station, named after the Chinese goddess credited with creating humanity, will consist of three modules, two containing laboratories and one 18-meter control module with a port for cargo pods to bring up scientists and supplies.
Nyu Wa will be a minnow compared to the International Space Station (provided that hasn't been allowed to fall back to Earth by then due to budget cuts) but it will be humanity's fourth attempt to build an orbital facility for humans. The resultant research will bring benefits for all, claimed Chen Shanguang, director of the Astronaut Center of China.
"Space medicine is not only good for the health of astronauts, but also has great potential for improving the health of people on Earth," he said at the congress, Chinese state media reports.
The first test module will be put into orbit within two years, but will be an unmanned unit intended to test out life support systems and orbital refueling. Once the finished station is in place, international astronauts would be welcome to visit, Chinese officials said.
In June, Chinese taikonaut docked craft in space, a skill that will be applied to the new space station, and it's not inconceivable that the station will be used to further China's ambitions to get some of its citizens on the Moon.
The Middle Kingdom has already announced plans to put a rover on the Moon by this Christmas, and also aims to have both manned missions to our satellite and a permanent base within the next decade or so. ®