Speaking in Tech: 'Why are you talking on your iPad Mini?'
Everyone has to conquer their own personal El Guapo. For Sarah, it's the blinged-up iPhone 5S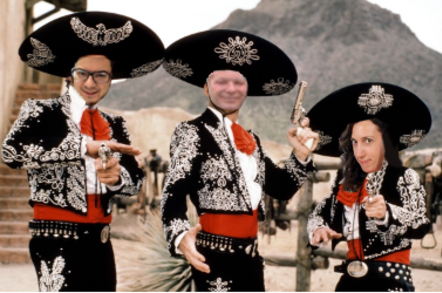 Podcast

Not even customers like NASA and National Geographic can guarantee your safety as a cloudy storage biz. This week in Speaking in Tech, your hosts Greg Knieriemen, Ed Saipetch and Sarah Vela, the three amigos of El Reg's tech-cast, talk about Nirvanix's shock implosion; whether or not stylus-waving Samsung Note 3 fans are dorks; why people are loving the new "golden" iPhone 5S... and much much more.
Want a quick roundup of what everyone in the storage, enterprise and consumer worlds are talking about? Download and plug in for a steaming hot cup of tech talk.
This week we discuss:
Eddie in recovery
Stewart Vaughn update, Pure poaching
Blackberry buys jet, sells the company
BBM app gets pulled
Cool kids want iPhone Gold
Nirvanix closes up shop, cloud vultures circle
Cloudy abstractions and gravity
Dude, I got a cloud
Crackdown on bogus yoghurt reviews
RSA's backdoor algorithm
LinkedIn getting sued
Social condoms
Eddie and Sarah gets endorsed
Listen with the Reg player below, or download here.
Podcast Subscriber Links
Subscribe through iTunes
Subscribe through Google
Subscribe through Stitcher