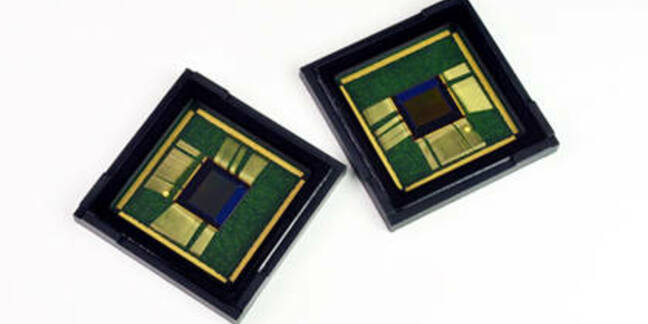 Samsung has announced a new image-sensor technology for smartphones and tablets it's calling "ISOCELL" – for "isolated cell" – that it says will improve color fidelity in low-light conditions, provide a higher dynamic range, and allow for slimmer devices.
"ISOCELL technology is yet another innovation that significantly raises the bar in image quality, and demonstrates Samsung's technology leadership in image sensors for mobile devices." Samsung VP of System LSI marketing Taehoon Kim said in a statement announcing the new tech.
Aimed at what Samsung identifies as "premium smartphones and tablets," ISOCELL aims to overcome the challenges of trying to fit more megapixelage into such devices without degrading image quality.
That problem is, at core, a simple one: as the number of pixels increase, the smaller each sensor element becomes and the more susceptible it is to image-mucking noise – simply put, its signal-to-noise ratio degrades as fewer photons strike the sensors' photodiodes.
In a market that continues to genuflect to the great god Megapixel – much as Megahertz was the deity that ruled the microprocessor market at the end of the last millennium – image-sensor designers strive to find new ways to increase megapixelage without creating sensors that produce images that are, not to put too fine a point on it, crap.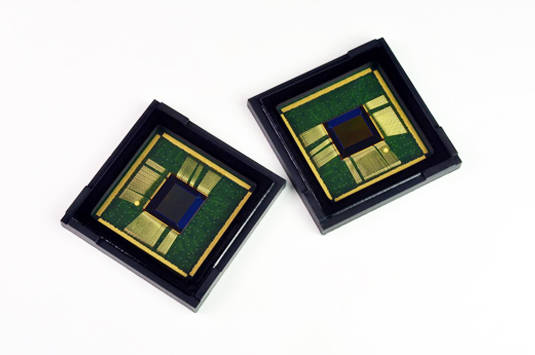 Samsung's ISOCELL image sensor, soon to appear in a Galaxy device near you
One major innovation that those engineers introduced was the move from front side illumination (FSI) to back side illumination (BSI). In FSI, light passes through a microlens, then a color filter, then the metal-layer wiring necessary to support the sensor, before it strikes the sensors' photodiodes.
Problem: that wiring reflects some of the light, and so as the sensor designers try to pack more pixels into the same area, the amount of light striking the photodiodes lessens, degrading image quality. BSI solved this problem by burying the wiring below the photodiodes, allowing the photodiodes to be shrunk further without image degradation.
But it only works up to a point – and as smartphone and tablet snapshooters continue to be seduced by megapixel specs, that point is rapidly approaching. A new innovation is needed to allow more of those image-carrying photons to strike photodiodes, and to release image-carrying electrons to the camera's chippery without image-muddying crosstalk between adjacent pixels.
Enter patent-pending ISOCELL technology, which adds a barrier between individual photodiodes. According to Samsung, this isolation not only allows each photodiode to collect more photons, but also cuts down on crosstalk between photodiodes by about 30 per cent.
That's the tech side of ISOCELL; from a user's perspective, increased photon absorption and decreased crosstalk should result in better color fidelity in low-light situations and a greater overall dynamic range.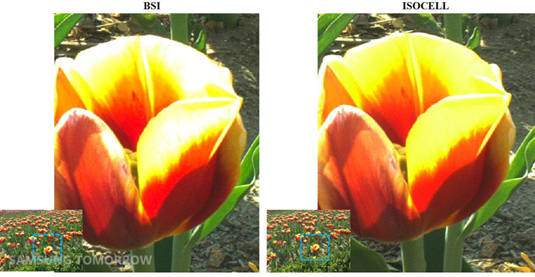 Samsung provides zoomed-in images to demonstrate the higher dynamic range of ISOCELL versus BSI
In addition to these advantages, Samsung says that ISOCELL has another benefit: a 20 per cent wider chief ray angle (CRA), which allows ISOCELL image sensors to be thinner than BSI sensors – and as smartphones and tablets slim down, any help in reducing the z-height will be welcome.
Samsung's first ISOCELL sensor, the S5K4H5YB, is an eight-megapixel part that is now sampling to customers, with mass production scheduled to begin in the fourth quarter of this year.
As you might imagine, seeing as how eight megapixels is rather pedestrian megapixelage in these days of such crazy specs as Nokia's 41-megapixel Lumia 1020, don't expect Sammy to stop its ISOCELL efforts at eight megapixels.
After all, although true photographers know that lenses, overall sensor size, and a camera's electronics are what underlie fine imaging, there are a lot of smartphone and tablet users out there ready to be seduced by high megapixel numbers, especially if they're accompanied by better low-light capabilities and a higher dynamic range, and are packaged in a slimmer device. ®
Sponsored: How to simplify data protection on Amazon Web Services