Violin's data-slurp flash SAN frontend to cram box at furious speeds
Force 2510 from Santa Clara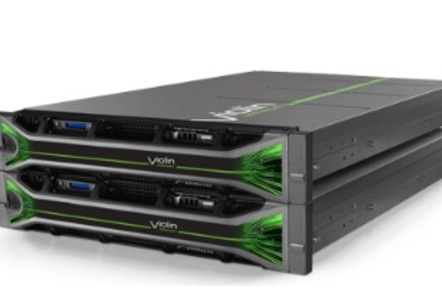 Violin Memory is now accelerating disk-drive array-based SANs by using a flash front-end caching box, which also sucks data off the SAN and stuffs it in Violin's own 6000-series flash arrays.
The Force 2510 is called a "memory appliance" in Violin's cant and is the company's implementation of the GridIron Turbocharger appliance, Violin having acquired GridIron in January this year.
The idea is, like Avere's filer accelerating FTX appliance, to place a flash-based cache inline in front of a Fibre Channel-connected SAN array, meaning legacy block-access disk drive array, and put the hot data dynamically - powered by hardware-accelerated Bayesian profiling algorithms - into the cache so accessing servers get it much quicker. The caching algorithms "predict application access patterns in real-time to ensure that most of the reads are serviced" by the Force 2510. The acceleration hardware uses FPGAs.
From a well-briefed blogger we understand that it will "speed up I/O not just by caching data that's active, but by learning what other clusters of data in a similar locality may also become active and bringing it into the appliance."
All in all, this can mean up to 90 per cent of SAN reads are serviced from the 2510, which speeds data access by up to ten times – and that cacheing works quickly, rather than having to wait hours for some tiering algorithm to learn what's hot and what's not.
All write I/Os and status commands are passed through to the back-end SAN and the 2510 can cache write data as well as read data..
Violin has an extra wrinkle: while this is going on the clever little caching box can also copy data from the disk drive array and stick it into one of Violin's 6000-series flash arrays, so that it all gets served up from flash instead of just the hot data you need right now. Additionally, its storage takes up less physical space, draws less power, and needs less cooling - the three classic flash array advantages.
Violin's marketing bumf says: "Hardware optimisation built into Force enables the Maestro software to migrate multiple TBs of data every hour."
It is a migration box as well as a cacheing box. As SAN data is transferred to a 6000-series array then it can be accessed there (more quickly) than from the backend SAN array.
The Force 2510 is a 2U rackmount box, and has a cache-coherent, active-active, dual controller setup for high availability, 192GB of DRAM and 8TB of flash. It has four server-side and four SAN-side 8Gbits/s Fibre Channel ports and two Ethernet interfaces for management. The two controllers are linked with dual 10Gbit/s Ethernet ports for high-availability failover and failback. The maximum bandwidth is 4GB/sec and the minimum latency is under one millisecond. It supports VMware's VAAI array integration product.
The Maestro Memory Suite is the software that runs the box.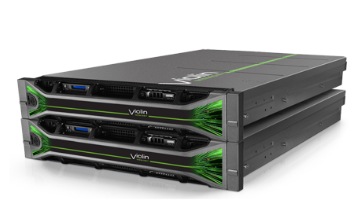 Violin Force 2510 memory appliance
According to Violin, the system supports: "All legacy storage arrays, including EMC, HP 3PAR, IBM, Hitachi, Dell, Fujitsu and NetApp arrays," and all the leading Fibre Channel switches from suppliers Brocade, Cisco and QLogic. It can be installed inline between the SAN array and accessing servers, and functions as a transparent Fibre Channel proxy device. The accessing servers and back-end SAN array don't know it's there; data just gets to the servers faster.
A third string to the 2510's bow is data protection. "Hardware-accelerated algorithms implemented in the Memory Service Engine enable asynchronous high performance data mirroring between multiple Violin Memory Arrays across any distance for protection against disasters and datacentre wide failures."
Violin also states "With the ability to mirror between any pair of storage arrays, Maestro gives you full flexibility to use the storage array of your choice."
What Violin is saying with this box and its Maestro software suite, existing FC-connected disk drive array users can take advantage of all-flash arrays with a relatively painless data migration effort concurrently with SAN array data read access acceleration. It seems unlikely that mainstream SAN disk array vendors will offer the same migration capability with their own all-flash array initiatives.
The Force 2510 appliance is available now. There is no word on pricing. Get a Force 2510 datasheet here (pdf).®