Tokyo Apple Store staff rescue iPhone-queueing fanbois from typhoon
Half-million evacuated from homes, half-dozen safe in Ginza retail shrine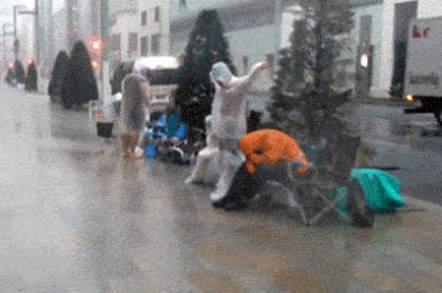 Japan is being lashed by a deadly typhoon that has forced a half-million people from their homes in advance of its torrential rains, but there are a handful of lucky fanbois who are riding it out in the Apple Store in Tokyo's tony Ginza district.
Not to make light of the deadly seriousness that is Typhoon Man-yi, but in addition to wreaking havoc on central and northeast Honshu – Japan's main island – on Monday morning, it also presented a challenge to that country's most dedicated iPhone fanbois, who had begun lining up outside the Ginza store last Wednesday, hoping to be the first to get their hands on Apple's latest shiny-shiny when it goes on sale this Friday.
Man-yi put a crimp in their plans, drenching Tokyo's Ginza sidewalks, but Apple employees took pity upon them.
As the Japanese gamers' website Kotaku reports, at 7:30am yesterday, before Man-yi unleashed its full powers and before the store had opened, staffers let the half-dozen or so diehards who were still in line into the store – along with their dripping gear – then provided them with bottled water and allowed them to crash in the store's demo theater.
Lest you think that Nipponese phone phans are a wee bit more unhinged than their western counterparts, know that there's a group of fanbois queued up outside New York's Fifth Avenue store at this very moment, having started their vigil on September 6, four days before the iPhone 5c and 5s were even announced.
As VentureBeat reports, however, two of the earliest New York sidewalk squatters had a more mercenary intent for their queueing than mere worship at the altar of Cupertinian kit. "We're just promoting our company, SellYourMac," one told the VentureBeat reporter.
All well and good – and, apparently, successful. The Reg, however, simultaneously honors the purity of heart of the Tokyo queue crew while we question their sanity, and unreservedly applauds the kindness of the Apple Store staffers.
Kotaku agrees. "Hey, who says Apple doesn't care about its customers?" they write. ®