Nokia's 41Mp Lumia 1020 'launches' in UK - but hoi polloi must wait
Gazillion-pixel flagship mobe now on pre-order, shlebs party away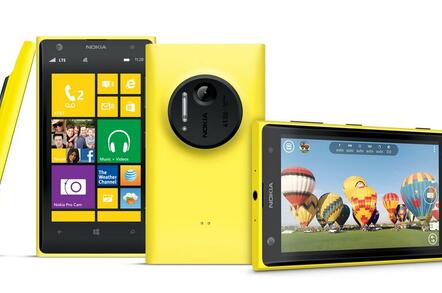 Nokia's impressive 41Mp Lumia 1020 flagship may have "launched" worldwide - with festivities including a glitzy Shoreditch gallery party featuring photographer David Bailey, actor Bill Nighy and cannibal entrepreneur Steve Bong - but UK punters won't get delivery until the end of the month.
Some Blighty operators and retailers are taking orders - but shipments won't drop until 25 September. And as expected, it won't be cheap.
Telefonica, which owns the O2 network, has nabbed the exclusive on the 64GB version of the 1020, a deal that lasts until the end of the year. Given that the phone excels at HD video and retains a large master copy of each image - and doesn't allow expansion via MicroSD card - the extra space comes in handy.
O2's complex pricing offers an array of options. One path offers a standard monthly plan, with a 300 minute/month tariff for £27/month and the phone costing £260 up front. Another path, the O2 Refresh option, separates the airtime and data cost from the hire-purchase cost of the device. This obliges you to choose an airtime plan first, then the kind of financing you prefer.
If you opt for LTE, then 5GB of data will cost £27/month and 8GB of data £32/month. You're then given four options, ranging from putting zero down upfront, with a total cost of ownership (TCO) over 24 months of £600, to putting £329.99 down for a TCO over 24 months of £570.
This is done in the name of transparency, to remind people of the cost of the device. Network operators must pay billions to Samsung and Apple upfront when a new device comes out - and this pricing structure is a little reminder of that to us consumers. Transparency is all well and good, but it does come at the cost of complexity.
Vodafone has yet to announce its pricing, while Three will offer the 32GB for £34 on its 500 minute unlimited data plan, at £69 upfront. Alternatively, an upfront cost of £550 on pay as you go.
All the operators are bundling Nokia-branded accessories to sweeten the deal. A pack including a tripod, the very handy camera grip (which includes an extra battery and costs £50 on its own) and charging pads and covers is thrown in for free from both O2 and 3. Phones4U will also bundle in a wireless speaker and six months of free Netflix if you choose any 4G plan. ®