Steelie Neelie calls for TOTAL BAN on EU mobe roaming charges
Drops plan to cap charges, goes for the jugular instead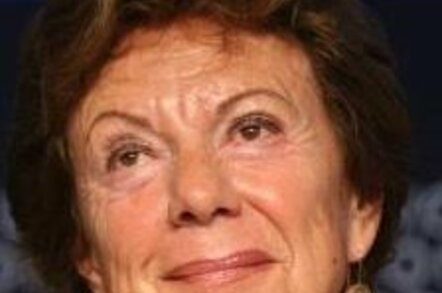 The European Commission is planning to scrap all roaming charges across the Continent as part of its efforts to turn the telecoms market into a single market across all EU countries.
Announcing the proposed changes, the EC said they'd be good for everyone, reducing red tape for companies and letting them expand across borders, while abolishing premiums and ensuring protection of net neutrality for users.
"Further substantial progress towards a European single market for telecoms is essential for Europe's strategic interests and economic progress. For the telecoms sector itself and for citizens who are frustrated that they do not have full and fair access to internet and mobile services," EC president Jose Manuel Barroso said.
The proposals will have to be approved by the 28 EU member states before they can be put into effect.
Steelie Neelie Kroes, the digital agenda commissioner and author of the reforms, has previously said that stopping telcos from charging each other for network access would help the European market as a whole to catch up with the Asian and US broadband infrastructure.
The proposals would ban companies from charging people for incoming calls from July 2014 and get rid of all other charges by 2016. Mobile providers would either have to allow people to switch providers during the time they're abroad without changing their SIM card or charge them the same price for calls across the EU.
To cut down on red tape, the EC is proposing just one authorisation for telcos that would allow them to operate across the union, rather than one for each of the 28 countries. In addition, the EC plans to harmonise regulations across borders.
The commission also plans to streamline and simplify consumer rights, guaranteeing users plain language contracts with more comparable information and the right to a 12-month contract rather than a longer one, with the ability to break the contract if internet speed promises are not delivered on.
"The European Commission says no to roaming premiums, yes to net neutrality, yes to investment, yes to new jobs. Fixing the telecoms sector is no longer about this one sector but about supporting the sustainable development of all sectors," Kroes said. ®
Sponsored: How to get more from MicroStrategy by optimising your data stack