We made the iPhones, now we want OUR 'UNPAID' WAGES – student Pegatron toilers
China Labor Watch says Apple's manufacturer must cough alleged underpayments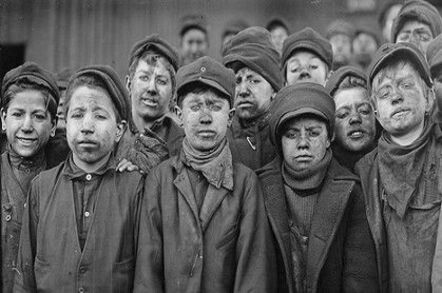 A group of Chinese student workers who have been making iPhones in a Shanghai factory have claimed Apple manufacturer Pegatron owes them unpaid wages – and say they want their cash back.
The students handed a list of their grievances to China Labor Watch, which has released a report today making a series of allegations about the harsh working practices of a "mechanic and inhumane management" on the eve of a major product announcement from Apple.
As the world prepares for the release of a new pair of iPhones – the 5C and 5S – 60 students have launched a campaign to claw back "unpaid overtime or wage deductions" which they allege were levied by bosses at Pegatron's Shanghai production line.
The group slammed the firm, which is headquartered in Taiwan, for its use of hiring agencies that it claims "cannot guarantee the protection of workers' rights" and alleges that those on nightshifts are paid a "pittance" even though the all-nighters are "bad for workers' health".
Pegatron is accused of showing "a lack of concern" for employees' wellbeing, allegedly making them stand for so long that some end up fainting at their posts.
In an open letter, the students wrote:
We are students from Henan University. During the summer vacation from July to August 2013, we, around 60 students, went to Shanghai, working as production line workers in Pegatron Technology, which we entered through labor dispatch companies or employment agencies. The primary reason we worked there was the hope to relieve the economic pressure on our parents to pay for our schooling.

In the factory, we worked and lived the same as other workers without any special protections. But our wages were deducted in a variety of ways. All workers must arrive at work 10 to 20 minutes early to participate in roll call and a meeting. The meeting after work is even longer. But this mandatory overtime was not calculated into wages.

Some of us entered the factory as interns, having 20 per cent of [our] wages deducted, despite our work being the same as a normal worker, including mandatory overtime work... We are now requesting Pegatron (Shanghai) Technologies Co. Ltd to pay our full salary in accordance with the law.
Today's release of the China Labour Watch report is interestingly timed as Tim Cook will take the stage at Cupertino later today to make a product announcement. He is expected to tell fanbois about a pair of new iPhones, including a cheaper model aimed at the Chinese market.
The report claimed a total of 100 students making the iPhone in a Shanghai factory owned by the Pegatron Group "have not received all due wages or had their wages deducted by significant amounts".
It also detailed the unpaid overtime racked up during regular meetings and alleged some students received "80 per cent of the wages of normal workers despite doing the same work". The 100 students come from Henan University, Nanyang Fifth Secondary Vocational School and Hubei Changjiang University.
China Labour Watch said:
CLW has communicated with students from these three schools, but based on CLW's undercover investigation, wage arrears and deductions are common violations among many of the thousands of student workers who were employed at Pegatron during this year's summer break.
Apple has contacted CLW and told them Pegatron had "recovered" some of the missing wages. Some students have received a reimbursement of 600 RMB (£62.50) and Pegatron told CLW it has "prohibited employment agencies from deducting wages from workers going forward".
CLW added: "Despite this preliminary response, Apple and Pegatron have not yet accounted for the wage repayments of potentially thousands of other student workers. The companies have also not accounted for the daily unpaid overtime or the reduced wages of student interns.
"CLW does not have the resources to efficiently track down and confirm the approximately ten thousand students that worked at Pegatron Shanghai during this summer. CLW calls upon Apple and Pegatron to use internal records to find these students and ensure that they are given their rightful wages."
We contacted Pegatron but have not received a response to our query. We also contacted Apple, but the fruity firm's super-reticent spindoctors have not yet replied. ®
Sponsored: Your Guide to Becoming Truly Data-Driven with Unrivalled Data Analytics Performance