WD's billion-dollar flash slurps: All this tech, and STILL no deal with chip-fryers
Flashy rumblings after Virident acquisition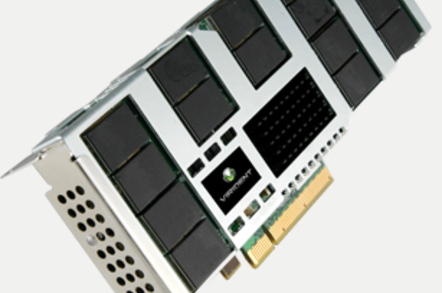 Analysis WD has splashed or intends to spend a whopping $1.1bn on building its flash technology and products portfolio, in the most aggressive series of moves yet by a hard disk drive vendor into flash, and yet it still hasn't inked a long-term chip supply deal with a flash foundry.
Just yesterday it paid $685m for Virident. So what are its plans?
Here's a list of the flash tech it currently has or intends to acquire soon:
a line of military specification SSDs which came in with the March 2009 $65m SiliconSystems acquisition;
a line of Ultrastar enterprise SSDs with the HGST SSD line developed using Intel SSD technology;
a line of enterprise SSDs with the ongoing sTec acquisition, which also gives WD its Kronos PCIe flash cards, and is costing it $340m;
server SSD caching software from Velobit, bought earlier this year for, we estimate, $25m; and
server PCIe flash cards and storage memory-like software from Virident, along with its cross-server flash store data sharing software, bought yesterday for $645m in cash, net of Virident's own cash.
WD has also invested in all-flash array startup Skyera back in March, although it is unclear how much it contributed to the funding round pot.
If you add all of this up – discounting the Skyera investment, of course – it comes to a total total of $1.075bn ($65m + $340m + $25m + $645m). This purchase alters the flash landscape, particularly that part representing the hard disk manufacturers' part of that landscape:

HDD manufacturer's flash tech capabilities.
The Virident purchase highlights four areas of interest:
WD flash product overlap
NAND supply surety
effect on Seagate
fate of Fusion-io
WD flash product overlap
WD/HGST now has or will have its SAS and Fibre Channel interface Ultrastar SSDs and the sTec SAS/Fibre Channel Zeus and Mach SSDs. It will also have the sTec Kronos PCIe cards and Virident's FlashMAX II PCIe cards. It seems unlikely that both the SSD lines and both the PCIe flash card lines will continues unless different sub-market sectors need different products.
We would envisage technology cross-fertilisation and brand rationalisation in the enterprise SSD area, with, for example, sTEc controller technology being used in HGST's future SSDs.
The Kronos SSD line from sTec is not as generally highly regarded as Virident's FlashMAX II products and Kronos customers may be migrated to FlashMAX products.
NAND supply surety
WD/HGST has no long-term flash chip supply arrangements with a flash foundry, meaning it has to buy its chips on the open market or rely on negotiating product-by-product arrangements as HGST has done with Intel.
Here's Stifel Nicolaus' Aaron Rakers on that deal:
Regarding its agreement with Intel and potential contract expiration later this year, management noted that the contract is on a product generation-by-generation basis and will continue its relationship into the future.
Fellow Toshiba disk drive manufacturer Toshiba has flash foundries and a relationship with SSD supplier SanDisk. It is unlikely that Toshiba/SanDisk will agree to supply flash chips on a long-term supply basis to WD, as WD and SanDisk are competing against each other.
Seagate has a flash chip supply and technology arrangement with Samsung, which has a seat on Seagate's board. We can't see Samsung entering into a long-term chip supply deal with WD either, given the circumstances.
Possibly WD could negotiate a NAND supply deal with SK Hynix. That firm is supplying advanced 16nm flash chips to Skyera, along with Micron, and WD has an investment in Skyera. SK Hynix is also a manufacturing partner of HP's with regard to its Memristor post-NAND non-volatile memory technology. The Reg storage desk would not be surprised if WD/HGST negotiated a NAND supply deal with SK Hynix.
We might even consider a financial arrangement between SK Hynix and WD such that WD gets its own assured supply of chips via an investment in SK Hynix. WD has surely considered such a possibility.
The other potential NAND supplier is Micron, which partners with Intel in the IMTF foundry business. Both Micron and Intel supply consumer and enterprise SSDs, and Micron supplies PCIe flash cards; it obviously competes with WD/HGST.
Still, and in the spirit of "co-opetition", WD/HGST could strike long-term supply deals with Intel, building on the existing HGST SSD deal.
Effect on Seagate
Compared to WD's billion-dollar push into flash, Seagate's moves look as if it is deliberately holding back. It hasn't bought an SD or PCIe flash hardware company or flash software supplier, having developed its own line of Pulsar SSDs and recently investing $40m in Virident. As part of that deal it supplies Virident PCIe flash products to its own resellers and OEMs. That deal now looks under distinct threat.
In July chairman, president and CEO Steve Luczo said: "We have strategic investments focused on the emerging enterprise PCIe market and key architecture advancements in next generation SSD technology."
WD's Virident buy probably blows the "strategic investments focused on the emerging enterprise PCIe market".
The cumulative effect of WD's flash-buying activities may galvanise Seagate into advancing its own flash activities more forcefully, by participating in flash supplier and technology acquisitions. In July, Luczo also said of this: "It was our decision not to participate. We are confident in what we are doing internally right now."
That was then. This is now, two months later, and WD has just spent $0.64bn buying Virident. Times change quickly in the flash business – in a flash we might even say. Seagate may now look at the increasing PCIe flash competition – Fusion-io, Micron, LSI, SanDisk, Intel and Violin Memory – and the consolidating SDD supply market, and change its mind about not participating.
PCIe flash cards threaten to decapitate the direct-attach server hard disk drive business. Ever-cheaper SSDs combined with reducing desktop sales threaten to shrink the desktop and notebook disk drive market, and hybrid disk drives may not be enough to stave off that threat. Can Seagate afford to retain its hands-off approach?
Hybrid drives will almost certainly not keep PCIe flash cards out of the direct-attach server storage business. That area is where the pressures on Seagate are greatest and that's where Seagate may make an acquisition.
Objective Analysis analyst Jim Handy writes:
It is clear that the Seagate/Virident relationship must come to an end. Yet, Seagate has no other PCIe SSD offering. Objective Analysis anticipates issuing an Alert at some future date with news of how Seagate will address this problem. It is very likely to come in the form of a similar acquisition.
... which brings us to Fusion-io.