It's the software, stupid: Samsung Galaxy Gear smartwatch bags big apps
Armies of Evernote, RunKeeper, Path users summoned in latest wrist war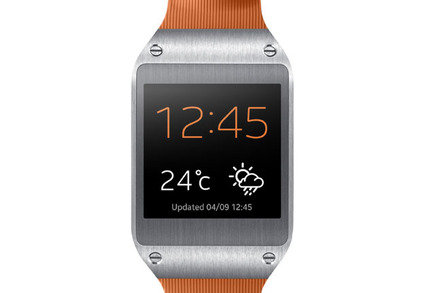 Analysis Samsung is not a great innovator, yet it's certainly one of the world's greatest imitators.
Although it follows other companies into booming markets with me-too products, it remembers to add a little more sparkle to its offerings so that it not merely to catches up with its rivals, it eventually pushes past them.
That's what the South Korean goliath did in the TV business, initially aping the Japanese consumer electronics giants and then wresting dominance of the market away from them. It tried it with so-called ultra-mobile PCs in the late 2000s and might have succeeded had world+dog actually wanted the machines.
More recently it has applied the same tactic very effectively to netbook and, later, notebook computers, and now it's successfully doing so in the smartphone and tablet arenas.
Last night we saw its latest attempt at market dominance through imitation and extension: the emerging smartwatch business.
It's all in the wrist
Samsung's Galaxy Gear - a stupid name - is entirely derivative. It has the colour display of a Sony Smartwatch or an I'm Watch, the voice control of the Martian platform, the on-screen information zones of Metawatch, and the close links to established smartphone apps and routed phone notifications that are Pebble's forté.
Though few smartwatches feature a camera, even the Gear's integrated 1.9MP component isn't original: Omate is promising to build a 5MP camera into its TrueSmart watch, and has been seeking funding from the Kickstarter crowd, for some time.
What Samsung does have that all of these others but Sony don't have is the budget for a glitzy product launch at the IFA consumer electronics show in Berlin this week - and the ear of the world's non-technical media. Samsung is a high profile brand, and lots of punters own one or more of its products. Judging by the excitement on BBC TV News, Samsung is now the creator of the smartwatch tech category.
It isn't, but Samsung's entry into the wrist-computer arena can't but help grow the market and bring it to the attention of many more potential customers that no end of Kickstarter campaigns can. That's good news for Samsung's startup rivals too because it will draw in people who will decide that the Galaxy Gear is not for them - most likely because of its price - and opt for one of the alternatives.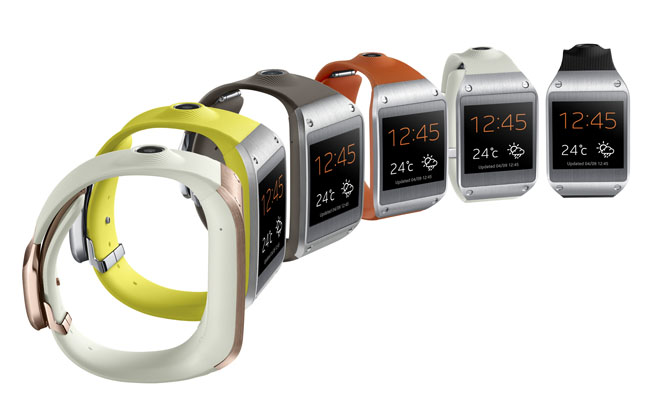 Samsung's Galaxy Gear ... until the iWatch arrives, the mainstream smartwatch option
Apple fans who've decided they can't wait for the much-rumoured iWatch any longer will need to look to one of Samsung's rivals even if they don't care about Apple's legal fights with the South Korean giant. There's no sign yet that the Galaxy Gear will play well with fanbois' iDevices.
Indeed, even Samsung appears to be, for now, pitching the Gear solely as an adjunct to a single device, its upcoming Android-based Galaxy Note 3 VLP™ (that's a Very Large Phone). It's not yet pitching it as an accessory for its other more pocket-sized smartphones.
Smartmobes are incorporating larger and larger displays with each passing generation, becoming more like tablets in both form-factor and the way they're used. Their owners are going to want a small second screen to quickly glance at if they need some simple useful info. They're not going to be so keen to whip out or carry around in their hand a six-inch device as they would a four- or five-inch phone. The smartwatch provides that second screen.
And the Gear does have a good screen. Its 320 x 320 colour OLED panel will appeal more than the E Ink or monochrome LCD panels found on the likes of the Hot Watch and the Pebble. It has a higher resolution than most other smartwatch screens - Sony's upcoming Smartwatch 2's LCD panel is 220 x 176, Pebble's is 144 x 168 - and it's also bigger than most.
The camera - which is built into the strap not the watch, so don't expect to be easily able to put the Gear on a new band - is something of a because-we-can gimmick or a vague attempt to deliver the same kind of functionality as Google's Glass. I can't see too many folk taking pictures with it. Neither, presumably, can Samsung, which is why it talked about such odd uses as "video memos" at the Gear's launch.
Sponsored: Detecting cyber attacks as a small to medium business