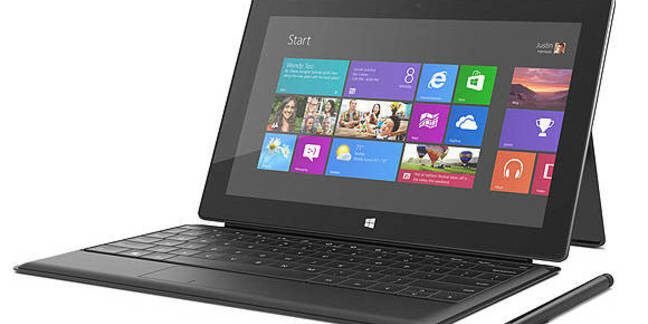 More details have begun to trickle out regarding Microsoft's second-generation Surface fondleslabs, which are expected to ship in the fall.
On Wednesday, Neowin reported that new versions of both the Intel-based Surface Pro and the ARM-based Surface running Windows RT were in the works.
Windows-watcher Paul Thurrot later confirmed the report and added a few details from his own sources, such as that the new ARM version would simply be called Surface, dropping the previous generation's "RT" moniker.
Few other details have emerged about Microsoft's follow-up to 2012's $900m albatross, except that it will once again be built around a Tegra chip from Nvidia. Based on what has emerged about the new Surface Pro, however, the new Surface will likely be more of an incremental update than a radical redesign.
According to both Neowin and Thurrot, the second-generation Surface Pro will run on a Haswell-based Core i5 processor from Intel, which should help with one the first generation Pro's major shortcomings: battery life. Thurrot claims the new tablet will be rated for up to seven hours of run time, rather than the first Surface Pro's five.
Both reports suggest that the system's RAM will be boosted from 4GB to 8GB, although Thurrot believes the beefier configuration will be an option, rather than the default.
Neowin believes the new slates will look "similar" to the current Surface Pro. Thurrot says they'll look identical. With any luck, that will mean the magnetic cover connector will also be unchanged, allowing existing Surface keyboard covers to work with the new models.
Redmond has cooked up at least one external modification to its tablets, however. The first-generation Surface slabs included a simple "kickstand" for propping up the screen when you want to use the device as a laptop. For the new models, Microsoft has reportedly "refined" the kickstand; Neowin isn't sure what that means, but Thurrot says the new version can lock into two distinct positions.
Neither report included any information on pricing, as you might expect at this stage. Thurrot reckoned – reasonably – that any price he quoted today could very easily change by the time the devices shipped. But price could prove to be the make-or-break factor for the second-generation Surfaces, given the deep discounts Microsoft has been forced to offer on the earlier models.
Nothing concrete has been said about the launch date of the new fondleslabs, either. But if history repeats itself, the new Surface running Windows RT could be formally unveiled on October 18, 2013, the official launch date of Windows 8.1.
The original Surface RT went on sale at midnight on October 26, 2012, the same date as the Windows 8 launch – which, like this year's October 18, was a Friday. The original Surface Pro shipped around three months after that, but whether Microsoft will play it that way this time is anybody's guess. ®
Sponsored: Practical tips for Office 365 tenant-to-tenant migration