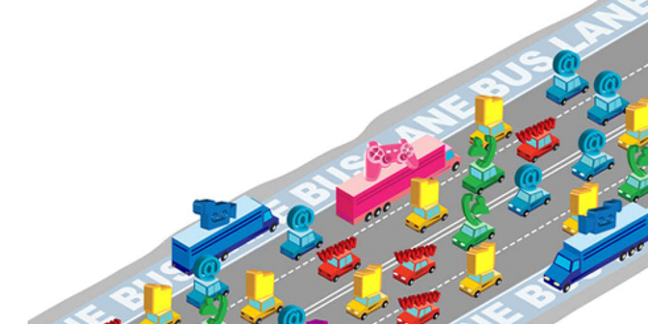 UK net regulator Ofcom has published an idiots' guide to traffic shaping to try to encourage people to see how wonderful it is ahead of the inevitable battle over net neutrality.
Starting with a history of the internet, the document (PDF, as silly as it sounds) explains that in the early days there wasn't any congestion – happily conflating last mile and backbone provision – and that it was ultimately addressed by the provision of broadband. The regulator went on to propose a single solution: traffic management.
"To ensure that networks operate efficiently," the guide explains, "fixed-line and mobile internet service providers (ISPs) can restrict or ration traffic on their networks, or give priority to some types of traffic over others during peak periods or more generally."
For those struggling with the concept there's an analogy with vehicles, which comes with pictures.
"Activities like streaming video are the lorries and take up a lot of space, whereas emailing or browsing are smart cars and much smaller" Ofcom explains, citing motorways as comparable to pipes. "A bus lane gives priority to buses over other types of vehicles and makes the buses' journey times shorter."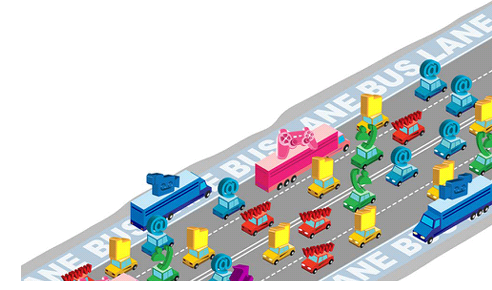 ...an analogy which breaks down when one remembers they closed the bus lane on the M4.
But banal as the guide might be, it is an early strike in the forthcoming battle over net neutrality. Already embodied in US legislation, the EU is similarly determined to make it illegal for anyone to pay extra for a decent Netflix connection.
Mobile operators managed to exempt themselves in America, on the grounds that voice takes priority over everything, but the net neutrality mantra is that 999 calls are no more important than cat videos and distinguishing between the two is immoral.
Ofcom's stance has been that customers are entitled to any service they choose to pay for, and as long as ISPs are open and honest about what they're doing then there's nothing to worry about.
However, that cuts no ice with Steelie Neelie (aka European Commission vice president Neelie Kroes) and her ilk, who can see a net neutrality bandwagon gathering speed and are determined to be seen boarding it early. ®
Sponsored: Webcast: Simplify data protection on AWS