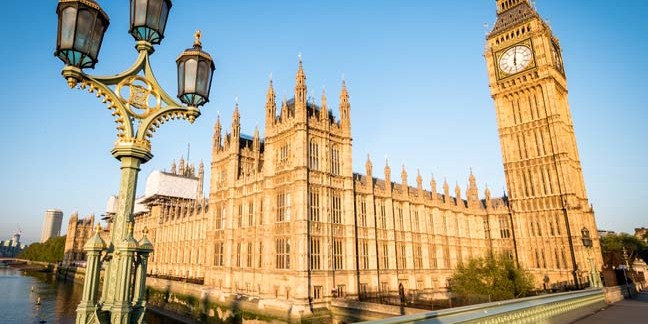 British politicians triggered grumble-flick website filters within the Houses of Parliament more than 300,000 times in the past year.
Figures released under the Freedom of Information Act show that ministers and their staff upset the anti-porn blocking systems on the Westminster network 309,316 times in 12 months - a rate of 850 a day.
The FOI request was filed by the UK branch of HuffPo, which promptly splashed the figures online.
In February 2013 – the month where Richard III's body was found in a Leicester car park – the parliamentary mood was apparently decidedly chaste, with just 15 attempts to access material deemed forbidden. November 2012 was perhaps the lustiest of all months, with 114,844 attempts falling foul of the sensitive filters. Perhaps the discovery of a rogue planet and news that Gmail had overtaken Hotmail as the world's favourite email service got MPs hot under the collar.
A flustered Commons spokeswoman insisted that her colleagues and bosses may not be as porn-mad as it might appear. The attempts to access adult sites may have been the result of, er, something popping up (on screen), overzealous network filters, or malware, the press officer insisted.
She said: "We do not consider the data to provide an accurate representation of the number of purposeful requests made by network users. [There are a] variety of ways in which websites can be designed to act, react and interact and due to the potential operation of third party software."
Some parliamentary staffers also hit back at the claims, blaming hyperactive puritanical filters for misclassifying innocent websites:
The problem with the Porn Story Parliament Computers thing is that sometimes PICTs filter blocks news stories as pornographic

— Martin Shapland (@MShapland) September 4, 2013
The government wants to stop everyone else looking at porn and anyone looking for grumble flicks will soon be forced to tell their ISP they they wish to do so.
Tory MP Claire Perry, who is advising the Prime Minister on porn, said yesterday: "The rise of sexting, online bullying, porn and young people documenting their entire lives on the web needs to be a core tenet of how we teach sex and relationships."
Wikipedia co-founder Jimmy Wales said the ban plan was "ridiculous". ®
Sponsored: Practical tips for Office 365 tenant-to-tenant migration