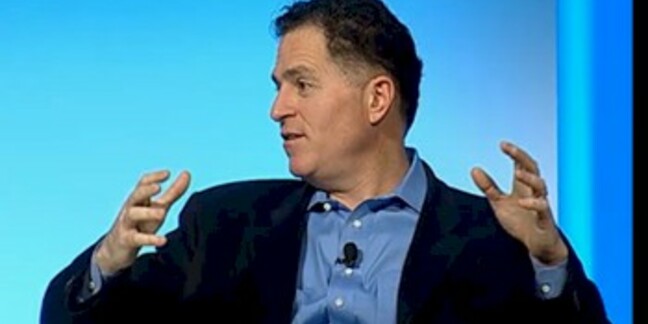 Blocks and Files Uncertainty abounds at Dell's Texas HQ as Michael Dell struggles to take the company private. Sources keep whispering that there's a "plan" in the offing – but what is that plan?
My personal prediction – reading the tea leaves at the bottom of the Dell teacup – is that the deeply fractured organisation wants to dance with the big enterprise supply folks – such as IBM, HP and Oracle – but just can't get its act together.
Dell buys suppliers with technology bits that are missing from its enterprise offering, like AppAssure, Compellent, Ocarina, Quest and others. On the face of it, these bought-in enterprise IT building blocks should fit together with Dell's existing server and desktop hardware, but the result looks malformed – and, somehow, Dell keeps on missing the enterprise supplier boat.
It doesn't help, in my view, that Dell, with a motto of "Better Together" keeps many of its operations apart. In storage, for example, we have EqualLogic in the Boston area, Compellent in Minnesota, Ocarina in Silicon Valley and Exanet in Israel. It doesn't want to destroy those units' individual corporate cultures and so Dell spends an inordinate amount of time co-ordinating these various storage operations instead.
Links between these engineering sales teams and the sales groups are vital to keep everybody on the same page when talking to customers. Yet sometimes those links seem ineffective, as we hear is the case between one of the aforementioned storage operations and a major sales group.
Now we hear Dell is laying people off, and not just any people; enterprise-focused people are being given the boot too. In the words of Dell spokesman David Frink talking about layoffs: "We do not provide specifics regarding numbers, locations or those affected ... As is our practice, we won't comment on speculation regarding operations at any specific location.
In El Reg storage desk's view, Dell has overlapping backup products with AppAssure and Quest, rationalisation has to be done and casualties happen. But quite senior and experienced enterprise people are leaving as well, apparently unconnected with such rationalisation.
Michael Dell needs to grow and motivate the enterprise systems sales teams. He needs trusted lieutenants, and so goes and recruits Marius Haas in August 2012, from running mergers and acquisitions at HP under Mark Hurd, to be Dell's Enterprise Solutions Business president. It looks like Marius is now tweaking and trimming the enterprise solutions crew.
His team is cracking the enterprise sales and marketing and strategy whip but to little substantial effect in terms of business results. Dell, after all, is no revenue high-flier, with quarterly revenues pretty much flat-lining at the $14bn area after annual revenues dropped from $62bn in fiscal 2012 to $57bn in fiscal 2013. Still, the Haas effect has only had 12 months to work, though investors must be hoping for a little more of a turnaround, and a little more sense of strong direction coming out of Dell's Round Rock HQ?
This is a currently a company where almost no decisions can be taken for the "long term" because no one knows what will happen next. If Michael Dell gets the stockholder vote he wants, and takes the company private, then he and his lieutenants can tear up the organisation and reshape it.
There is a fear that you can take a guy away from box-shifting but you may not be able to take box-shifting away from the guy. Could it be that Dell's real problem is "founderitis"? If so, that can only be sorted by the board bringing in some new blood. ®
Sponsored: How to simplify data protection on Amazon Web Services