Vodafone, can you get a signal at the top of your $130bn Verizon cash pile?
Verizon Wireless stake mega-deal sealed - now what to do with all that dosh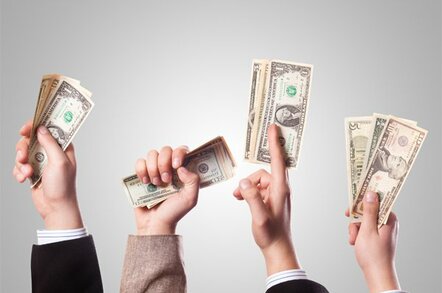 Verizon will buy out its UK partner Vodafone from their US joint-venture Verizon Wireless for $130bn, as expected.
But rather than pocketing or spending the cash after years of negotiations, Voda will hand most of it over to its shareholders and nothing at all to the UK taxman.
The deal - one of the biggest in corporate history - will jettison Vodafone from America. But the telco giant was keen to stress that it never considered itself in the US market as it was just an investor in Verizon's mobile network business - and an investor that has now decided to cash out its 45 per cent ownership into real money and common stock.
The biggest lump of the deal, $60.2bn (£38.7bn) in Verizon common stock, will go straight to Vodafone shareholders along with $23.9bn (£15.3bn) of the $58.9bn (£37.8bn) cash component. The rest of the transaction comes in a loan note for $5bn (£3.2bn), and Verizon's shares in Vodafone Italy (worth $3.5bn or £2.2bn apparently) topped up with US liabilities amounting to $2.5bn (£1.6bn) which totals the headline figure a shade over $130bn (£83.6bn).
From that tsunami of wonga, Vodafone is only committing to £3.86bn of investment in new networks and business expansion, the rest being passed to shareholders or used to pay off debt. That will leave Vodafone comfortably debt free but perhaps a little too unencumbered for those who see it as a possible acquisition.
Her majesty's taxmen won't see a penny from the deal, though Vodafone was very keen to point out that UK shareholders who decide to sell off their Verizon shares immediately will pay capital-gains tax. Verizon is registered in the Netherlands, but (as Vodafone again took time to emphasis) the deal wouldn't have attracted tax even if it had taken place in the UK as such exchanges of stock are exempt.
The American government will get $5bn in taxes, as rules dictate, but in Blightly the company is clearly gearing up to take some flak for slipping past the Exchequer. The deal will require EU approval - but only for the transfer of Vodafone Italy shares, which shouldn't present any complexity. The American regulator the FCC will need to approve the bigger part of the transaction, which will need shareholder approval from both sides.
Verizon has reserved the right to alter the cash/share split of the deal ahead of final signing, depending on how much cash it can borrow and how cheaply it can borrow it, but the shares will have to have the requisite value when the deal goes through.
Details of Vodafone's aforementioned multi-billion-pound investment, code-named "Vodafone Spring", will be outlined this morning as the company speaks to investors. An expansion into mobile payments was hinted along with 4G infrastructure and investment in developing markets, but don't expect any significant acquisitions or international investments - those have gone quite well, thank you, and Vodafone knows to quit while it's ahead. ®
Sponsored: Becoming a Pragmatic Security Leader