Techie Crotty will put £1m in Bletchley museum's kitty ... if you do the same
Donate to Blighty's computing history collection to unlock entrepreneur's dosh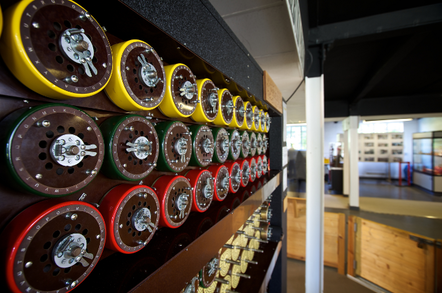 The National Museum of Computing (TNMOC) at Bletchley Park has been promised its largest ever single donation of £1m, which it hopes to use on refurbishments.
Donor Matt Crotty, a tech entrepreneur and trustee of the museum, has pledged the million-pound gift. The eggheads who run the joint now need to find matched funding to unlock that contribution - for every quid punters chip in to the museum's coffers, a pound will be added from Crotty's pledged fund.
TNMOC is home to various exhibits charting Blighty's computing history: from the world's first electronic computer, Colossus, and the Harwell Dekatron to the Acorn BBC Micro and beyond.
"Despite modest budgets, high rent, and a challenging economic climate, TNMOC has opened six acclaimed and genuinely unique new galleries in the past four years. To make this happen staff and volunteers have been working with enthusiasm, skill and patience and funders have been generous in difficult economic times," trustee chairman Tim Reynolds said.
Like many charitable foundations, the museum will need to get pledges of matched funding in order to unlock the million offered by Crotty. TNMOC said money would be "phased in" as the matches were found, and would be prioritised towards increasing capacity for visitors and exhibits as well as museum refurbishments.
Separately, the Bletchley Park Trust – which owns the site of the museum, although TNMOC does not receive funding from it – is in the middle of a project to restore its code-breaking huts from World War II and building a new visitor centre. As well as private and charitable funds, the park's trust has secured cash from the Heritage Lottery Fund and corporations like Google, IBM and HP Labs. ®