Intel's new top-dog desktop 'Extreme' CPU fails to excite geekerati
A decent enough chip, to be sure, but worth a thousand bucks to upgrade?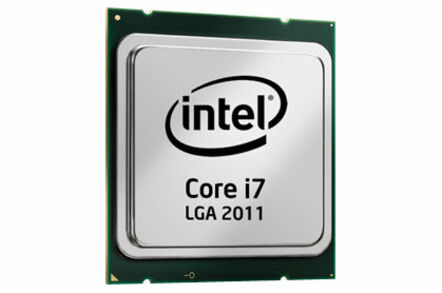 Intel has announced the latest in its 10-year line of "Extreme" desktop processors, and the consensus view from the geekerati who have put it through its paces in prerelease testing is a collective "Meh."
As ExtremeTech, Joel Hruska's review of the new chip was headlined, "Core i7-4960X Ivy Bridge-E review: Intel's Great Limp Forward."
AnandTech's conclusion was a bit more diplomatic. "My biggest complaint about IVB-E isn't that it's bad," Anand Lal Shimpi wrote; "it's just that it could be so much more."
Over at Tom's Hardware, Chris Angelini duly noted the i7-4960's mild improvements over its top-of-the-desktop-line's predecesssor, the Sandy Bridge–based Core i7-3960X, but concluded, "Does Intel's Core i7-4960X, specifically, get me all revved up about upgrading? Well, no. Not really. But then again, those thousand-dollar CPUs rarely do."
Angelini was exaggerating the price of the new 3.6GHz (overclockable), six-core, 12-thread i7-4960, but only by ten bucks – but there's also a new 3.4GHz six-core part, the i7-4930K, that's available for $555, along with the third member of the Extreme family, the four-core 3.7GHz i7-4820K, for a mere $310.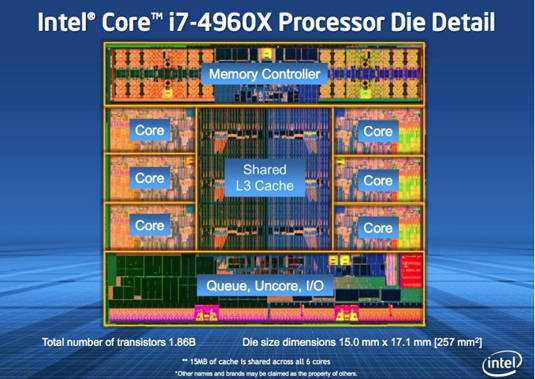 If your apps can benefit for six cores and 12 threads, the i7-4960 is here to help
There's nothing inherently wrong with the i7-4960X; in fact, it does provide the performance gains that Intel promised it would. It's just that even Intel admits that those gains are not exactly something to write home about. When compared to the Sandy Bridge i7-3960X, Intel says that the Ivy Bridge i7-4960X will provide 10 per cent faster 3D modeling, 7 per cent faster 3D gaming, 5 per cent faster data/finance analysis, and a mere 4 per cent improvement in what Intel calls "everyday computing."
Not bad, but as we said, nothing to get too worked up about – although Intel blogger Dan Snyder writes that "the Intel Core i7-4960X processor and family will get the blood pumping for hardcore gamers, 3D artists, video geeks and anyone who uses their computer to the max."
It all depend upon what pumps your blood, it appears.
What definitely will not cause plasma surges among the enthusiast community is that the introduction of the i7-4960X was not accompanied by an improved chipset. Like its older brother the i7-3960X, the new processor still mates with Intel's X79 chipset, which was introduced way back in late 2011, and which provides just two 6Gbps SATA ports and zero USB 3.0 ports – although motherboard makes often add USB 3.0 ports themselves.
That's the bad news; the good news is that the i7-4960X uses the same LGA-2011 socket as does the i7-3960X, so you're not facing an enforced motherboard upgrade, should you have the desire – and the $990 – to move up to the top of the line.
There are other advantages, as well, such as the fact that the move to the 22nm Ivy Bridge process makes the i7-4960X noticeably more power-efficient than its 32nm predecessor, and that the chip's 40 PCIe 3.0 lanes are fully validated, which wasn't the case with the i7-3960X.
So if you're flush with cash, knock yourself out. But if you're content with what you have in your enthusiast machine today, you might do better to wait for Extreme desktop CPUs built using Intel's 22nm "Haswell-E" architecture – or even wait another generation until 14nm "Broadwell-E" parts ship. Both of those chips will require a new socket – the same one, by the way – and will have the added advantage of an upgraded chipset.
Not that the X79 chipset is a dog, mind you, but if you're popping nearly a thousand bucks for a CPU – which will likely be the price for upcoming top-of-the-line Extremes, too, as was the case with the i7-3960X – don't you deserve the best? ®
Sponsored: Detecting cyber attacks as a small to medium business