Australian coalition promises digital pigeonhole for all
Policy focuses on e-governement, pays lip service to startups and students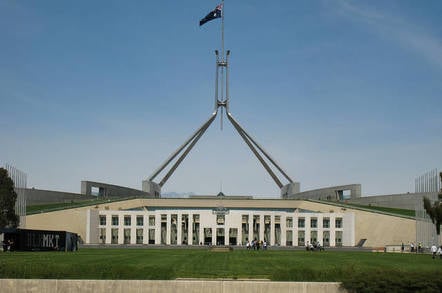 Australian coalition promises digital pigeonhole for all Policy document outlines procurement, industry assistance plans Australia's government-in-waiting opposition parties have released their "Policy for E-Government and the Digital Economy".
Available here as a PDF, the policy offers the following four "policy measures":
Accelerate the digital economy by working with the private sector to coordinate enabling infrastructure such as online identity, digital mail and payment systems;
Accelerate Government 2.0 efforts to engage online, make agencies transparent and provide expanded access to useful public sector data;
Reduce the cost of government ICT by eliminating duplication and fragmentation. Government will lead by example in using ICT to reduce costs, lift productivity and develop better services. Light user agencies with insufficient IT scale will move to shared or cloud solutions. Heavy user agencies with complex needs will retain autonomy but improve accountability;
Create a better model for achieving whole-of-government ICT goals that acknowledges the decentralised Australian Public Service and differences in scale and capabilities across agencies.
The document is divided into two sections. The second, titled "The Plan" offers five sets of policies. We'll get to those later. The first is a long and rambling assessment of various issues underpinned by an assertion that the current government is obsessed with the national broadband network (NBN), which it has more or less botched, and that its slow rollout has placed worthwhile advances in e-government or development of the digital economy on hold.
Here's a sample of that argument from page 11:
"Over the past six years Labor has focused to such a degree on its NBN that many Australians believe the NBN is Labor's digital economy strategy.
Vast resources have been used to promote the NBN's technical merits and advertise to literally millions of Australians who are desperately waiting (in vain) for it to reach them.
But there has been limited discussion about how this costly project can add directly to productivity, employment and the economic opportunities available to individuals and communities."
Another central tenet of the document is that technology equals productivity and that policy must therefore help Australia catch up with the rest of the world in terms of technology adoption. Cloud is advanced as one way to do so.
The document also suggests the federal government can do only so much to promote a digital economy, for philosophical reasons and because so much service delivery in Australia is done by States, Territories and local governments.
Turn to page six and you'll read that "... no government ever told Apple to build a particular product, or Facebook to supply a certain service, or Intel to fabricate and sell semiconductors of officially-determined specification. Consumers and markets have been sovereign."
The coalition plainly intends to leave it that way in Australia.
There's therefore plenty of reference to working with other tiers of government to deliver policies and a suggestion that government's own IT services can lead the way for the private sector to follow. That idea becomes important later on in formal recommendations for many more government services to be delivered online.
The hands-off attitude means there's mixed news for those who would see Australia adopt policies that have helped to foster startups elsewhere. Here's a pair of revealing paragraphs:
"A more supportive environment for entrepreneurs and early stage ventures is a pressing need. It is apparent Australia's venture capital sector lacks the scale (and record of returns) to be self-sustaining over the business cycle, and since the GFC there has been a steep fall in the availability of capital. Likewise, incentives for entrepreneurs and employees at startups are important but Labor's punitive and unashamedly old-fashioned class war against employee shares in 2009 caused lasting damage.

While a vibrant startup community and growing pipeline of promising Australian technology companies (some of which might flower into global successes) would be very encouraging, there are limits to the capacity of governments to will this into existence, and, even if they could, it would not be material to the broader economy for years."
Ongoing reform of IT procurement practices is also addressed, with the current government given marks for the Gershon Review but dammed for not following through effectively. An interesting policy recommends Commonwealth Agencies be divided into "heavy users" that need their own IT and will be allowed to have it and "light users" who should use either the cloud or shared services to get the tech they need. There's also a cloudward thrust evident throughout.
The document pays lip service to the need for more education in the STEM – science, technology, engineering and maths – subjects, but does not offer more than a review to see if existing programs improve outcomes.
In the prose section a few policies appear without being included later in the formal lists. For example, the page 12 pledge to update the National Digital Economy Strategy (NDES) "during its first term of government" isn't repeated elsewhere. Another dropped into the prose, on page 14, mentions the Gershon Review's recommendation to create a "Secretaries ICT Governance Board (SIGB)". The SIGB is later referenced as something the coalition thinks is needed in the formal policies.