Moto X teardown shows US manufacturing adds mere $4 to handset costs
Motorola goes for standard chips and software wizardry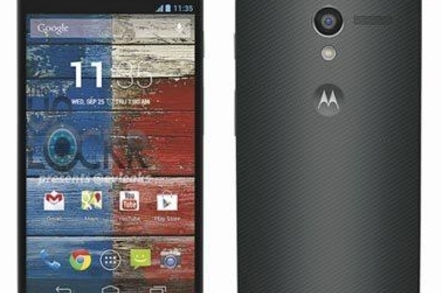 It's taken as gospel by businesses – particularly in the technology industry – that when it comes to manufacturing, offshoring production to Asia is the only way to go. But a Moto X teardown by analyst house IHS shows this to be faulty logic.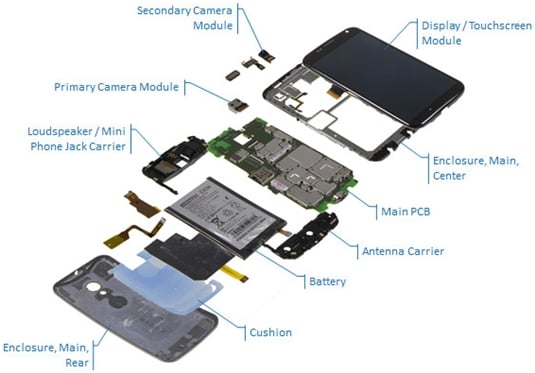 Pieces of X (source: IHS)
Motorola has been heavily marketing the "Made in the USA" credentials of the Moto X, and is assembling the handsets in its Fort Worth, Texas facility. Doing so allows the company to customize handsets individually for each customer and ship them out within four days of ordering. IHS estimates this adds around $4 extra to Motorola's costs, but makes the company more responsive and brings PR benefits.
In terms of cost per handset, the teardown estimates Moto X manufacturing comes in at $226 per unit, compared to $207 for an iPhone 5 or $237 for a Samsung Galaxy S4 with the same amount of storage. From a carrier perspective, Motorola asks for a $300 subsidy, compared to around $400 charged by Apple and Samsung.
"With the Moto X, Motorola is reaping the public-relations and customization upsides of producing a smartphone in the United States, while maintaining competitive hardware costs," said Andrew Rassweiler, senior director, cost benchmarking services for IHS. "In spite of its 'Made in the USA' label, overall costs are still competitive with similar smartphones."
While the Moto X may be assembled in the US, its parts still mainly come from Asia. The handset gets most of its chip smarts from Qualcomm, powered by that company's Snapdragon S4 processor, but adds a digital signal processor from Texas Instruments.
All these components are slung together to make an eight-core unit Motorola is calling X8. Four cores cover the graphics, there are two apps processors (including one for natural language processing), and a couple of low power chips. But from a hardware perspective, the Moto X and its X8 isn't anything special, IHS found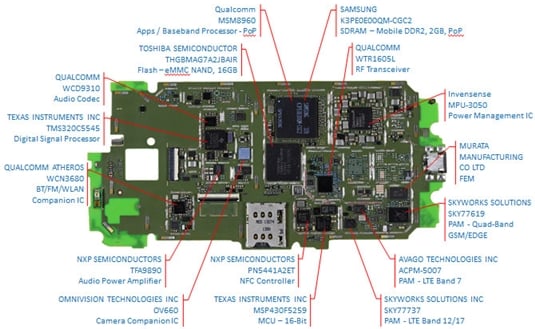 Nothing new, but cheap chips (source: IHS)
"One of the most remarkable things about the electronic design of the U.S.-made Moto X is how unremarkable it is compared to Asian-assembled smartphones," Rassweiler said. "With its use of a Qualcomm-based design, the Moto X could easily be mistaken for a smartphone made by HTC or Samsung, if it weren't for the Motorola logo.
The teardown report did note the Moto X has some good power-saving features, giving it a "24-hour usable experience." These include a low-power AMOLED screen that fires up only the pixels it needs for notifications and the like when it's at rest, and efficient use of the X8's two low-power cores for handling notifications and giving the handset the ability to listen in on its surroundings.
The Moto X carries three always-on Wolfson microphones that constantly listen for the words "OK Google Now," to turn on a "Touchless Control" system, waking up the handset for voice commands and searching via Google Now. Apple users can think about it like summoning Siri with a shout. ®