Star Wars revival secret: This isn't the celluloid you're looking for
JJ Abrams to use 35mm film - but that wasn't what made the old movies great, sputter fans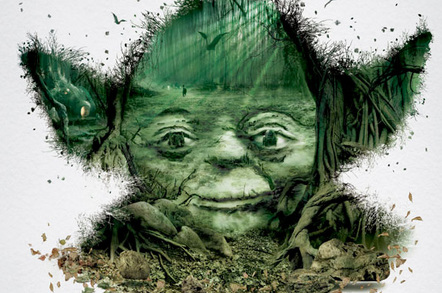 The next Star Wars film is to be made using analogue film in a bid to evoke the glory days of the space saga.
The excitement is Palpatine palpable among Star Wars fans, who will be hoping the return to the traditional methods of filmmaking heralds a move away from the digital, hyper-real – and hyper-rubbish – style of the last three films.
A website called Boba Fett Fan Club revealed director JJ Abrams' decision to use 35mm film for Star Wars: Episode VII. The site sent a reporter to see a talk by Abram's cinematographer, Dan Mindel, at the American Society of Cinematographers.<
At the end of the speech, a super keen Kodak rep asked whether it was true that the film would be shot on analogue film. Mindel then confirmed he would be using Kodak film stock 5219.
Growing clusters of hardcore analogue-lovers* are once again embracing the old ways, with sales of vinyl records growing and a subculture developing among photographers who use film. Analogue advocates say its "imperfect" methods offer a warmth that is lacking in coldly exact digital media, with the crackly pops of an old record or the grainy glow of Leica film often deemed more pleasing than the chilly perfection of digital snaps or digital music files.
Abrams has long been interested in analogue film, using techniques like lens flare throughout his work to evoke the pre-digital era.
"I wanted this movie to feel real," Abrams told a website called Digital Content Producer. "I'm not saying you can't be real with digital. But with film, for me, there was such a familiarity and comfort to it, a real warmth. We wanted to avoid coldness and any unnatural sense of perfection."
In an interview with The Guardian, he said: "I'm obsessed with things that are distinctly analogue. We have a letterpress in our office. There's an absolute wonderful imperfection that you get when you do a letterpress, and that is the beauty of it.
"The time that is put in setting the type and running the press, inking the rollers, all that stuff – that kind of thing is clearly an extreme example. But it's the beauty of the actual investment of time, and the amount of time that goes by lets you consider things that somehow, in a kind of weird osmosis or spiritual way, is somehow implicit in the final product. And that seems to not exist much any more." ®
* OR irritating mobs of retro-filtering, 20-year-old-bike riding Instagram hipsters... substitute as needed - Sub Ed
Sponsored: How to Process, Wrangle, Analyze and Visualize your Data with Three Complementary Tools