Intel: Our new mobile chip SoCs it to its predecessor
Forget about how we raved about Medfield – Clovertrail+ is the real real deal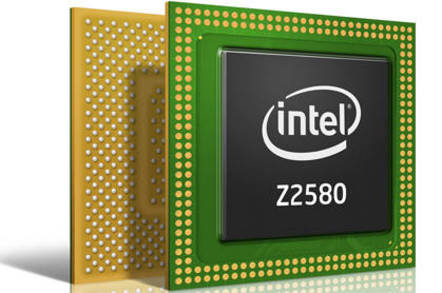 Hot Chips Intel has released more details about its upcoming Clovertrail+ system-on-chip (SoC) platform for smartphones, and its enhancements appear to provide a big ol' boost above and beyond the company's current smartphone chip-wannabe, Medfield.
During a Monday morning session at the at the Hot Chips conference at Stanford University in California, Intel provided a feature-by-feature, capability-by-capability comparison of the differences between Clovertrail+ * and Medfield.
Unspoken – Hot Chips is a technical conference, after all, not a marketing strategy confab – but understood by all was the fact that if Clovertrail+ bombs in the market, Intel's opportunities for smartphone success will look increasingly bleak.
After all, Medfield hasn't exactly set the mobile world on fire. To be fair, it has scooped a few design wins in the smartphone market, but it hasn't rocked the ARM-dominated mobile world. China's ZTE – which has announced that it'll release a Clovertrail+ phone – packs a Medfield SoC into its ZTE Grand X In, as does Motorola for its Razr i, Orange in its San Diego in the UK, and then there's the Xolo X900 in India. There are also a few others as well, including the Taiwan-only version of the Asus "Is it a tablet? Is it a phone? Stop, you're both right!" FonePad, but by and large, smartphoneland is an ARM, ARM, ARM, ARM world.
But back to the comparison. The most obvious difference between Medfield and Clovertrail+ is their number of CPU cores. Where Medfield has a single-core Atom Z2480 running two threads, Clovertrail+ is powered by an Atom Z2580 that doubles that core count, lifting the thread count to four. In addition, the Z2580's compute cores benefit from Intel's HyperThreading tech, which should improve threading efficiency and thus boost performance.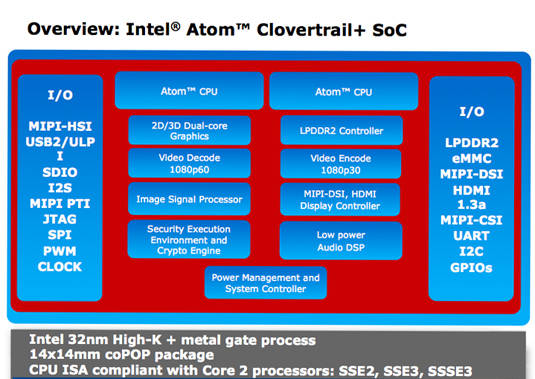 A peek inside the basic structure of Intel's upcoming Clovertrail+ SoC
Both chips run their compute cores at 2GHz, but no mention was made in the presentation about whether there would be a burst mode that would allow temporary CPU clocking above the Atom Z2580 cores' speed. There was, however, bursty discussion about Clovertrail+'s GPU core. The dual-core GPUs in both the new SoC and its older sibling are based on two different PowerVX SGX-series designs from Imagination Technologies, and both run them at a base rate of 400MHz.
Medfield's 540 part is locked into that frequency, however, while Clovertrail+ can burst its 544 part up to 533MHz when needed – and when sufficient power and thermal overhead is available.
System memory in the Medfield platform is limited to 1GB of LPDDR2 RAM with a bandwidth of 800 million transfers – or megatransfers – per second (MT/s). Clovertrail+ improves that to 2GB of LPDDR2 RAM at 1066MT/s, and adds optimizations for out-of-order operations. Speaking of memory, storage in the Medfield platform maxes out at 64GB of embedded multimedia card (eMMC) 4.3 flash, which will be upgraded to 256GB of eMMC 4.41 in Clovertrail+.
When it comes to video codecs, Medfield supports the usual suspects: H.264, MPEG4, VC1, DivX, and VP6. To those, Clovertrail+ adds VP8, Real Video, and Sorensen. Still-image niceties are also upgraded from Medfield's support for an eight megapixel (MP) main camera and 1.3MP front-facing camera, to Clovertrail+'s main 13MP and front-facing 2MP.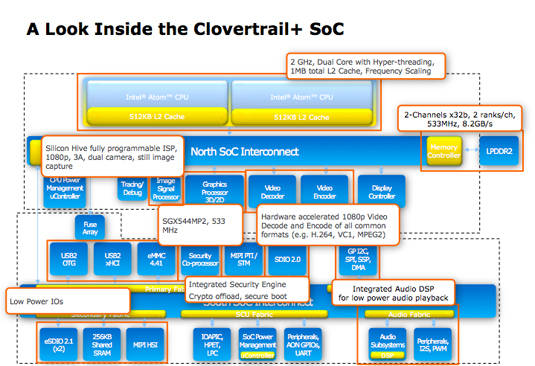 A deeper dive into some of the quarks and gluons that make up this particular Atom. (click to enlarge)
Display support? Glad you asked. Medfield's display serial interface (DSI) runs at 700Mbps per lane, limiting it to 1280x768 displays. Clovertrail+ bumps the DSI up to 1Gbps per lane, permitting HDMI-friendly 1920x1200 resolution.
Finally, Clovertrail gets a better cellular modem than its predecessor has. The Medfield platform supported an Intel XMM 6260 that maxed out at a 21Mbps data rate, while Clovertrail+ moves up to an XMM 6360, which doubles that to 42Mbps.
The first Clovertrail+ parts won't ship with LTE support, but Intel is promising that such support is "coming soon" – although exactly what "soon" means in this context wasn't defined.
As is traditional in such presentations, we Hot Chips attendees were treated to a flurry of charts 'n' graphs that purported to demonstrate how handily Clovertrail+ outperforms Medfield. Intel also claims that the power needs of its next-gen SoC should be comparable to its ARM-based competition. As is also traditional, however, we'll wait for thorough, unbiased, third-party testing to appear before we come to any conclusions.
However, as the first half of the old sports cliché goes, this team of features and capabilites certainly looks good on paper. But as the second half of the same cliché cautions, "It's too bad they don't play on paper." ®
* Bootnote
A bit of explanation about the spelling of Clovertrail+. Intel's marketing materials usually refer to it as "Clover Trail+" and we've also seen it written as "Clover Trail Plus". But since Monday's Hot Chips presentation slides wrote it as "Clovertrail+", we went with that for this article. As if it really matters...