Apple snaffles travel app in quest for way out of Maps debacle
'We generally do not discuss our purpose or plans', so there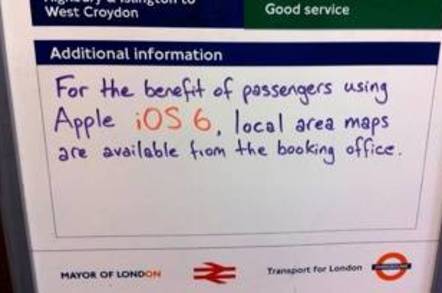 Apple has bought another mapping startup, this time a small firm called Embark that develops public transit maps for download to Apple and Android devices.
Last month, Cupertino splashed out on Canadian startup Locationary and online transit-navigation service HopStop.com to augment its mapping app, and now its Embark's turn. The firm, which is partially owned by BMW and claims half a million users, has stopped shipping Android maps – it's now all about Apple.
"Apple buys smaller technology companies from time to time, and we generally do not discuss our purpose or plans," a spokeswoman told former Wall Street Journal tech reporter Jessica Lessin.
Apple is still counting the cost to its reputation after it dropped Google Maps with the release of iOS 6 and use its own map app. Sadly, the software turned out to be hopelessly unreliable, and CEO Tim Cook was forced to personally apologize, then sacked the manager responsible.
With iOS 7 due soon, if the rumor mill is correct, Apple will be trying again to get the hang of this mapping thing and give users something that is accurate enough to avoid them dying of thirst, and redirect some iPhone user's eye-time from Google's products.
Mind you, chief rival Google hasn't been shy about buying mapping talent too. The Chocolate Factory bought Israeli mobile navigation app vendor Waze for $1.3bn this June, and is looking to get it integrated as soon as possible. ®