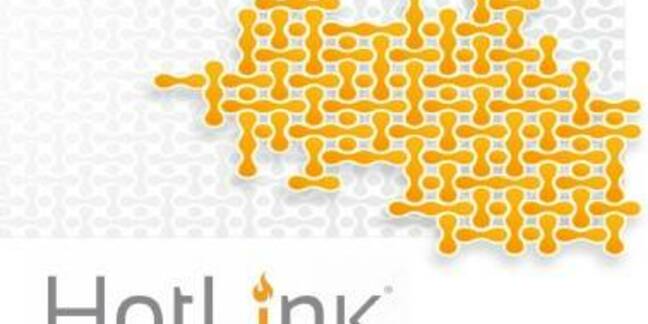 The latest product from server virtualization control freak upstart HotLink, called DR Express, was borne out of the company's need to have better disaster recovery for its own internal development cluster. And now, HotLink is ready to take it to the VMware masses.
HotLink uncloaked from stealth mode two years ago with a product called Transformation Engine, which was originally designed to allow any server virtualization hypervisor written for x86 server architectures to be controlled by the management console of any other hypervisor, thus breaking the dependencies between hypervisor and console that's designed to make server virtualization tool suppliers money and give system administrators in mixed environments plenty of headaches. The first product based on Transformation Engine was called SuperVisor.
This core HotLink transformation technology was not only aimed at internal server clusters with SuperVisor, but also at the Amazon cloud, with a separate product called Hybrid Express being able to sit between a VMware vCenter console and the Amazon Web Services console and let those remote AWS images on EC2 be controlled from vCenter, looking and feeling exactly like local ESXi virtual machines.
Given the overwhelming use of VMware's ESXi hypervisor and its related vSphere add-ons and vCenter console, HotLink discovered after the original SuperVisor launch that it doesn't need to support the full matrix of hypervisor-console combinations. HotLink is waiting for XenServer from Citrix Systems, Oracle VM (a variant of Xen) from Oracle, and KVM from Red Hat, Canonical, and others to take off before having SuperVisor mimic their consoles, and has instead been working on deeper integration with VMware's virty stack. (HotLink has productized its APIs so this same approach could be taken with other consoles.)
With the SuperVisor 2.0 release in January, HotLink announced a freebie version of SuperVisor that had all of the bells and whistles of the enterprise edition – letting vCenter manage VMs running on Hyper-V, XenServer, or KVM hypervisors – but is limited to a maximum of three non-VMware host servers and a maximum of 15 simultaneous VMs running across those machines.
The new DR Express product is a derivative of SuperVisor and Hybrid Express, and instead of just doing management of remote VMs, it actually does replication between the data center and the public cloud, and controls the failover of applications from the data center to the cloud.
"The key impetus for DR Express was a hardware failure that took out a rack of servers in our engineering department," Lynn LeBlanc, HotLink co-founder and CEO, tells El Reg. "We are a startup, so we don't stockpile servers. Backup is what we could afford, and we cannot have a lot of hardware sitting around waiting for a failure."
In this respect, HotLink is like millions of other companies. The company had been using its own Hybrid Express to manually move VM images from its internal ESXi cluster out to Amazon EC2. DR Express manages the transformation of workloads running on ESXi and seeds them into Amazon S3 so they can later be fired on EC2 as needed. This transformation can take anywhere from 5 to 15 minutes, according to LeBlanc. But, she says, because you don't need a like-for-like configuration to failover thanks to the transformation between ESXi and the custom Xen format used by Amazon, you can get EC2 economics to play in your favor.
Once a failure is addressed on premise, you use the same transformation process, controlled by vCenter and DR Express in your data center, but going in the other direction to restore the running VM back in the data center.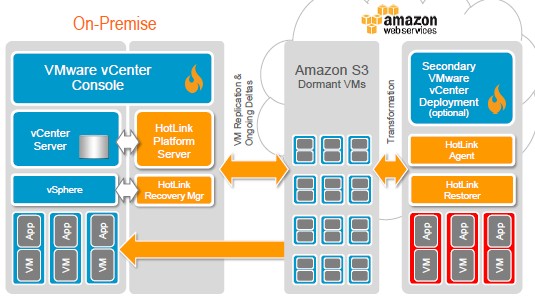 HotLink DR Express does failover and failback to the cloud and from it
HotLink's Hybrid Express links Amazon EC2 images to either VMware's vCenter or Microsoft's System Center Virtual Machine Manager consoles, but the core SuperVisor tool only extends vCenter out to other hypervisors. Similarly, the new DR Express tool only plugs into vCenter to manage replication out to Amazon S3 storage and restoration of the VM running on EC2 and then cloning it back on premise. It is not required to have a vCenter image running out in the EC2 cloud, but HotLink recommends this as a precaution against a server failure taking out the vCenter console inside the data center.
You can set recovery point objects (RPOs in the lingo of the disaster-recovery racket) in DR Express on a per-VM basis, and most customers will choose somewhere between 10 and 30 minutes for the most critical VMs, and maybe an hour for those that are not so critical. "Most VMs don't change much," says LeBlanc, "and when they do, it is often not relevant, such as big log files. Application servers change quite a bit, and database servers even more.
For now, DR Express only works on ESXi hypervisors and the vCenter console because there are mechanisms in the VMware stack for seeing how VMs change before replication. HotLink cannot support Microsoft's Hyper-V and Systems Center console combination because the Windows stack does not yet have these features, but the expectation is that Windows Server 2012 R2, due later this year, will have those features. And thus Hyper-V will be the next hypervisor to be supported by DR Express.
DR Express costs $25 per VM per month, and you can transform the VM back and forth as many times as you want; there are no limits on the size of the VMs. You need the vCenter console and an Amazon EC2 account. No other HotLink software is required.
SuperVisor enterprise edition costs $26,700 for a license that covers one non-VMware hypervisor plus ten hosts; a block of additional hosts for non-VMware hypervisors comes in a 25-pack that costs $23,400. Hybrid Express enterprise edition costs $26,700 for a license that covers 100 Amazon instances; a block of additional instances comes in packs of 250 that cost $23,400. And if you like the freebie edition of SuperVisor or Hybrid Express, which got a freebie edition in April, and they are enough for you, you can buy a tech-support license for them for $5,340 per year. ®
Sponsored: Webcast: Discover and secure all of your attack surface