3D printers stroke LOHAN's shapely midriff
Vulture 2 fuselage begins to take shape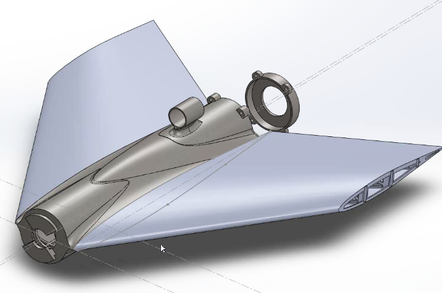 Those UK readers living close to rapid prototyping firm 3T RPD Ltd's Newbury headquarters are invited to open their windows and listen for a distant whirring sound as our Low Orbit Helium Assisted Navigator (LOHAN) Vulture 2 spaceplane is meticulously hewn from the living nylon.
Last week, the crack team of Southampton Uni postgrad students – comprising David Cooper, Chris Dodd and Amrith Surendra – delivered the first CAD files to the 3D printers, comprising the port and starboard outer wing and wingtip rudders.
We offered a quick tease of how the outer wings relate to the aircraft's fuselage/inner wing section...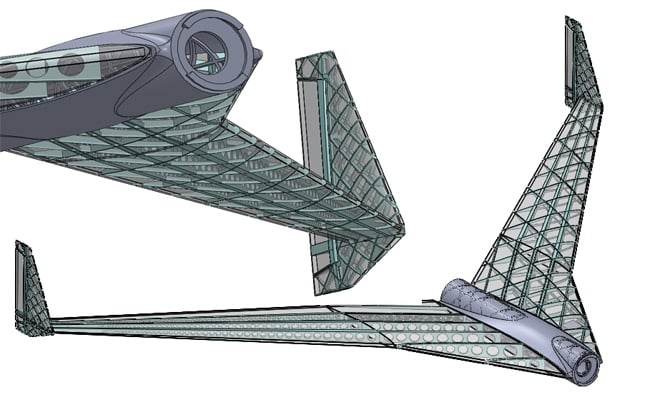 ...and here's the latter done and dusted and ready to roll: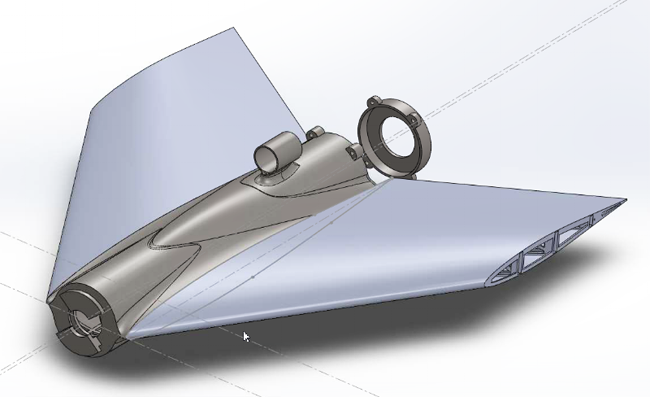 At the front of the fuselage we have the bayonet mount for the Vulture 2's nose – a cunning piece of design work enabling us to remove the front of the aircraft completely for transportation and electronics wrangling purposes.
The top mount for the Teflon insert through which the launch rod will pass (details here and here) is clearly visible, and at the rear we have a simple screw-mounted retaining ring to hold in the spaceplane's rocket motor.
The second mounting point for the launch rod will be in the Vulture 2's nose, and when we whip the covers off that on Friday, you'll be able to create a mental picture of just how the beast will look when it rises majestically from the powdered nylon.
And that'll be your lot, and indeed ours, until the aircraft lands at the SPB's mountaintop base for assembly and fitting out.
Once again, we invite readers to raise a pint or two in honour of Messrs Cooper, Dodd and Surendra for their remarkable design and hard graft. We were going to say they've given it 110 per cent over the last few months, but that figure is completely inadequate. Accordingly, we're going to quantify their exertions at 210 per cent – 10 per cent above the theoretical "absolute upper limit of human performance".
So, check back Friday for the final Vulture 2 CAD reveal...®
---
Further LOHAN resources:
---